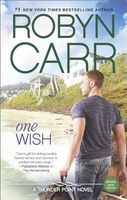 Series:
Thunder Point
(Book 7)
Grace Dillon was a champion figure skater until she moved to Thunder Point to escape the ruthless world of fame and competition. And though she's proud of the quiet, self-sufficient life she's created running a successful flower shop, she knows something is missing. Her life could use a little excitement.
In a community where there are few eligible singles, high school teacher Troy Headly appoints himself Grace's fun coach. When he suggests a little companionship with no strings attached, Grace is eager to take him up on his offer, and the two enjoy…getting to know each other.
But things get complicated when Grace's past catches up with her, and she knows that's not what Troy signed up for. Faced with losing her, Troy realizes Grace is more than just a friend with benefits. He's determined to help her fight for the life she always wished for but never believed she could have -- and maybe they can find real love along the way.
Another really good trip to Thunder Point. Grace is the local flower shop owner with a past she doesn't talk about. She's happy with her new life, but she has to admit that there is something missing. When local teacher Troy Headly offers to help her add some fun to her life, she takes him up on it.
I really liked both Grace and Troy. Grace was the daughter of a former skater and a skating coach. She had been a skater herself from the age of four, coached and pushed until she won it all. She loved the skating and the competing, but hated everything that went with it. When she reached the top, she walked away, determined to live the life she wanted out of the spotlight. This created a breach with her overbearing mother, who she has avoided ever since. Now that her business is doing well, she realizes that she's ready for more. She's been friends with Troy for awhile, and has liked him quite a lot, but he was stuck on her friend Iris. Now that Troy isn't so focused on Iris, he is seeing Grace in a new way. At first he's just looking at her as a friend, someone he can hang out with. But the more time he spends with her, the more she intrigues him.
I liked the way that the relationship between Troy and Grace built. They started as friends, with Troy looking for someone to, as he put it "play with", and Grace looking to expand her horizons a little. I loved the way that Troy set out to help Grace have some fun. Their first trip out to look at the waves during a storm was really funny, with Troy inadvertently causing Grace to laugh hysterically. Later trips and just being together gave them a chance to really get to know each other. The attraction also built slowly, but burned hot once it was there. I loved Troy's sensitivity to Grace's concerns, and his patience was really sweet. Grace still had fears about confessing her past to Troy, worried about how he would react.
When Grace's mother reappears in her life, wanting to repair their relationship, Grace is at first very wary. Once her mother's motivation is revealed, Grace knows she will do what she can, but she refuses to go back to her old ways. She now has the strength and self-confidence to stand up for herself, but she also wants Troy's support. Troy has some issues of his own to face with his relationship with Grace. He hadn't expected to fall in love with her, and with her background now exposed he's having trouble dealing with it. There's a great quote from him "Did you know that when men fall in love there's a kind of atrophy of the brain that causes them to do stupid things? Even when they know better?" Later she asks "And if you get it again?" and he replies "Try a club." I loved that. It was great to see him look past the unimportant things and see what they could have together.
I also liked catching up with some of the other characters from previous books. Ray Anne is busy helping Grace find a home for her mother in Thunder Point. Iris makes several appearances as she helps both Grace and Troy work through their relationship issues. Grace's work as the florist for Peyton's wedding (
The Promise
) also introduces a new character. Ray Anne's niece has come to stay with her as she recovers from a loss, and takes a job as Grace's assistant in the florist shop. Various others pop up in the course of daily life in Thunder Point.