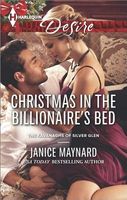 Series:
Kavanaghs of Silver Glen
(Book 3)
Whatever possessed Emma Braithwaite to move to Silver Glen? She had no illusions that being in Aidan Kavanagh's hometown would reignite the love they'd shared in England years ago. But now that Aidan's returned for his brother's Christmas wedding, it's clear Emma's explosive attraction to the billionaire has lost none of its power.
She is the cool English beauty whose betrayal once shattered his heart. So Aidan's not looking for reconciliation -- all he wants is Emma in his bed! Needless to say, Emma has other ideas: she's not settling for anything less than commitment this time…
Very good reunion story between two people with a very emotional past together. Ten years earlier Aidan had been an exchange student at Oxford in England. The brash young American and the proper English lady fell deeply in love. But a misunderstanding that Aidan saw as a betrayal sent him brokenhearted back home, where he reunited with a former girlfriend. A trip to Silver Glen with her over the holidays ended in tragedy, and now Aidan avoids home during the holidays.
An invitation to his brother Dylan's Christmas wedding (
Baby For Keeps
) forces Aidan to go home for the holidays. Over the past ten years he has gotten very good at keeping his emotions buried, and feels he has a good chance of making it through the visit. That is, until he encounters Emma, the last person he expected to see in Silver Glen.
Emma left England years earlier to get away from her controlling father. His interference in her relationship with Aidan had been the last straw. A few months ago, Emma had decided that she needed to find Aidan and apologize for what had happened, and went to Silver Glen to find him. He wasn't there, but she fell in love with the town and opened her own business there. She hopes to catch him on a visit home, say her piece, and see if there is anything left between them.
Seeing Emma blows Aidan's illusions of emotional control out of the water. After witnessing the accident that injured her, he can't just walk away. The visions of what could happen bring back too many bad memories. He's determined to watch over her until the danger is past, but he doesn't want to listen to anything she has to say.
The relationship between Aidan and Emma is explosive. The attraction between them is hotter now than it had been before, but Aidan isn't willing to risk his heart again. I got a bit frustrated with him at times because outside of the bedroom he was frequently quite nasty in his attitude toward her in his attempt to protect his heart. Emma's love for him had her giving in to the attraction between them, hoping that he would eventually listen to her. It hurt so much when she realized that he just couldn't let go of the past. I loved seeing what finally opened his eyes to what he was throwing away and how he was finally able to break the chains of his past.