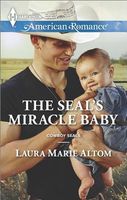 Series:
Cowboy SEALs
(Book 1)
SHE BROKE HIS HEART
Jessie Long knew she made the right decision years ago. Grady Matthews wanted a ranch and a home full of kids, and she couldn't give him that. So she cut him loose for his own good. They went their separate ways--Grady left to join the Navy and Jessie stayed home.
Now a deadly twister has flattened their hometown, and it's brought them back together--and back to square one. The passion's still there, and the easy understanding. Even the way they care for the orphaned baby found in the aftermath just seems to fit. For Grady, that's enough. He's sure they can make a life together. But for Jessie, the secret that tore them apart is still hiding under the surface. And she can't face losing Grady a second time.
Good story of a second chance at romance. Grady has returned to Rock Bluff to help his parents rebuild their ranch after a devastating tornado flattened the town. He doesn't expect Jessie to be one of the first people he sees. Years earlier, he and Jessie had been in love and planning a future together, one with a ranch and a house full of kids. But then Jessie ended their engagement, and Grady left to join the Navy and become at SEAL.
Jessie had loved Grady and looked forward to their life together. But when she received news that ended those dreams she knew she couldn't hold him to his promise. So she ended things, but didn't tell him why. She became a teacher and stayed in their hometown. Now Grady is back and she has to face him.
I liked both Grady and Jessie. Grady is still hurt and angry at Jessie, even after all this time. For the first time since their breakup he has the opportunity to get some answers, but Jessie isn't budging on what she had told him before. One thing that hasn't changed is the attraction between them. Every time they get close the sparks fly. And when they can put the past aside, their old connection is still there. That connection is never more obvious than when they are taking care of a baby found in the tornado's wreckage. I loved seeing how taking care of the baby brought them closer together, but Jessie's secret is still lurking in the background.
I liked the way that Grady was so determined to get them back together. Once he put his anger aside, the love that he still felt for Jessie was right there. I loved seeing the way that he worked so hard to help her with her tornado damaged classroom, and how he saw how much her students meant to her. t was sweet to see how wonderful he was with baby Angel. When he finally learned Jessie's secret, it was a blow, but his love for her was more important. He really tried to show her that truth, and her actions later were even more devastating to his heart. I didn't blame him at all for his hurt and anger and the things he said.
Jessie is a warm and loving woman but her secret has really done a number on her self worth. Both in the past and now she has trouble believing that Grady would be happy with her in the long term. I really thought that she hadn't been fair to him when she broke things off without telling him why. She never gave him the opportunity to show her that she was more important. Even after she finally tells him the truth, there's part of her that doesn't believe he'll stay. So after a huge disappointment involving the orphaned baby, rather than wait for him to walk away, she drives him away. An interesting twist to her life has her going after him to apologize and see if they can make it after all. I loved the epilogue and the Thanksgiving surprise that was the icing on their HEA cake.