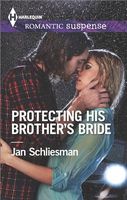 An unlikely partnership shrouded in secrets...family secrets too shocking to reveal...
Framed for embezzling, investigator Kira Kincaid will go to any lengths to clear her name--even team up with Dalton Matthews, her estranged...now deceased...husband's brother. But the reclusive mogul isn't what she expected--he's the quintessential alpha male who evokes an unwelcome yearning. And now, thanks to his involvement with Kira, a target to those trying to kill her.
Dalton is determined to protect the headstrong widow, even as he plans to walk away once she's safe. If only her green-eyed gaze didn't melt all of his emotional defenses. But when their mission exposes an earth-shattering family secret from both their pasts, Dalton must choose between his brother's betrayal and the one woman he should deny.
Good story. Kira is having a rough time. She's being framed for embezzlement. Her husband, who she is trying to serve with divorce papers, has disappeared. In an attempt to find Josh and clear her name, she reluctantly teams up with Josh's brother Dalton.
Kira, a product of the foster care system, is used to doing things on her own. When she started noticing that things weren't adding up properly at work, she started her own investigation. But her search brought her to the attention of the wrong people, and suddenly she's the one in trouble. In her attempt to find out about Josh at Dalton's house, he became a target also. Kira hates the idea of having drawn Dalton into her mess, and several times tries to get him to stop trying to help her. It isn't too long before she realizes that's a losing battle, and has to admit that she's glad he's on her side.
At first Dalton is suspicious of this woman who claims to be married to his brother. The fact that she is wanted doesn't help her case. But some careful questioning has him admitting that her claims might be real. And when someone blows up her rental car and torches his house, his protective instincts take over. Convincing her to trust him isn't easy, especially since they both have reasons to be cautious around the opposite sex.
The relationship that built between them was an unwilling one at first. Neither wanted to be attracted to the other, but they couldn't stop it. I loved the way that Dalton was so determined to protect Kira, but he wasn't going to allow himself to even think of a future with her. Just as Kira wasn't going to risk her heart again after having it so badly broken by Josh and everything he did. But their hearts could not be denied, and when everything was over they knew that if they wanted to be happy they had to be together.
The suspense of this story was really very good. I loved the pride that Kira took in her work, and when things looked suspicious she was determined to get at the truth. It was also great to see that she was also fanatical about making sure she had backups of everything and how important that ended up being. It was interesting to see how Kira was able to take Dalton from being convinced she was lying to willing to help her clear her name. The intensity of the attacks kept going up as the man behind it all got more desperate. I admit that I did not see that final confrontation coming, though once it did I completely understood it. I did expect that last twist and that one made me very happy.
I enjoyed the secondary characters of Tate and A.J. The estrangement between Tate and Dalton was hard on them both, and by the end it looked like they were on the way to getting past it. I loved the way the three of them worked together to save Kira. I'd like to see both of them get their own stories, because I got the feeling that there was more to each of them than appeared on the surface.