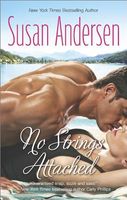 Series:
Razor Bay
(Book 3)
Some mistakes are worth repeating…
Tasha Riordan's one night with Luc Bradshaw was the best of her life. The following two -- when he left her to be thrown into a Bahamian jail on bogus charges -- were her worst. Now, seven years later, the undercover DEA agent is back. Invading her town. Her restaurant. Her fantasies. She can't trust a man who lied to her. Yet neither can she trust herself -- not when their chemistry burns even hotter than before.
Learning he has two half-brothers shocks Luc. Discovering they live in the same town as Tasha -- that's a different kind of thrill. Their mutual lust is still off the charts, but he can't get her to listen to his side of what happened on that long-ago night. Good thing he's got powers of persuasion that go deeper than words. Because nothing has ever felt this right….
Very good second chance story with some fun moments. It starts with a hot vacation fling between Tasha and "Diego". Things are looking great when he's called away by his boss, after asking her to stay a few extra days. Right after he leaves, his room is raided by the Bahamian police and she's tossed in jail for two days on drug charges. She's convinced she was set up by a drug dealer.
Seven years later, she finds "Diego" visiting her best friend's fiance, claiming to be his half-brother Luc Bradshaw. She is still furious with him over the jail thing, and now believes he's trying something fishy with her friends. It takes a lot of effort for Luc to prove who he really is, and that he was on an undercover assignment when he met her. He's been mad at her too, believing she had broken her promise to stay, since she was gone when his boss went to help her leave the island. When he finds out what happened to her, he's furious and determined to get to the truth.
As angry as she is, it's obvious that the attraction between Tasha and Luc is as strong as it was before. Neither one has forgotten those days when they felt like they had truly connected. Luc is determined to show Tasha that they can still have something good together, but every time she looks at him she remembers those horrible nights in jail. She's really pretty hard on him, but it isn't too long before Luc's intention to regain her trust starts to soften her up.
There were moments when I loved Tasha, and others when I really wanted to smack her. I loved her independence, her strength of will, and her loyalty to her friends. I loved seeing her on the scene at her pizzeria. She has great relationships with her employees - there was a terrific part at the beginning where she stood up for one of her teenage employees against one of the snobby set. However, she spent far too long holding what happened against Luc, especially once he explained. But once she finally accepted it, things really started to pick up.
I really liked Luc. I loved seeing him get to know his brothers. It was a bit heartbreaking to see his insecurity over whether he fit in with them. I also liked that he really was an honorable guy. He had tried to do the right thing back in the Bahamas, his mistake was in trusting his boss. He hadn't forgotten Tasha at all, and often wondered about her. He was floored when he saw her again, and really confused about her anger until he heard why. I loved the way that he refused to give up on getting her to forgive him and seeing if they could still have something together.
I loved seeing the relationship grow between Tasha and Luc. At first they tried to keep it purely physical, because Luc would be going back to his undercover work and Tasha didn't want to risk her heart. But Luc soon finds that the idea of not going back to undercover work is growing in appeal. All he needs to do is convince Tasha to take a chance on him. Tasha has to face up to her own fears before she can allow herself to take what Luc is offering. While her confrontation with Luc was hard, I liked the way she was able to be honest with herself and admit the truth of the things he said. Once she did that, then she had to decide if she was ready to take the risk.
I also enjoyed the secondary story of Jeremy and Peyton, Tasha's two teenage employees. I loved Jeremy's determination to overcome the issues that had put him in the group home. He had his pride, but he was also willing to accept the help offered by Tasha and her friends. I really enjoyed seeing the part he played in the story. I wasn't sure about Peyton at first. She initially came across as one of the snobby crowd, but showed what she was really made of early on. Her attitude was actually a cover when she was nervous, and I loved seeing it start to fade as she made a place for herself at the pizzeria. The romance that developed between the two of them was pretty sweet, but not without its problems. I really liked seeing the way they dealt with those problems and how it made them stronger. I'd like to see them again in a later book.