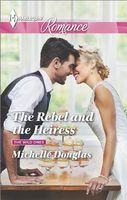 Series:
Wild Ones
(Book 2)
From rebel -- to knight in shining armor…?
Losing her family fortune, it's time for once-privileged Nell Smythe-Whittaker to make it on her own…with a little help from delicious bad boy Rick Bradford!
Rick hasn't seen Nell since childhood, but with a family mystery to solve Rick needs Nell as much as she needs him. Yet with a past as checkered as his, can Rick ever be good enough for this beautiful heiress? It's something he's willing to prove….
Wonderful, sweet story. Nell is in a rough place. The family fortune is gone and she is trying to make a go of her cupcake business. She has just moved into the house that her grandmother left her and it is in pretty bad shape. She has plans for the house, but currently no way to make them happen. She has also been tasked with delivering a letter to Rick from a former employee of hers.
Rick hasn't seen Nell in fifteen years. They had a very brief friendship that was stopped by her parents because they didn't feel it was suitable. Nell was from a wealthy family and Rick grew up on the wrong side of the tracks, the son of a prostitute and an unknown man. Rick recently got out of prison where he did time for someone else's crime. As a result, he's rather cynical and doesn't trust easily.
The contents of the letter reveal Rick's father's name, and sends him on a search for a previously unknown sibling. The clues are cryptic and take the joint efforts of Rick and Nell to figure them out. In exchange for her help, Rick offers to make the repairs to her house. The idea of having a sibling both terrifies and appeals to Rick, but he is wary of exposing himself to rejection.
I loved the relationship that grew between Rick and Nell. Rick expects the worst from everyone because of his past reputation as a bad boy and people's attitudes about his time in jail. He spends a lot of time expecting Nell to turn on him before she finally convinces him that she trusts him and believes in him. Nell grew up either ignored or put down by her parents and made to feel useless. She is now determined to make a success of her life without depending on other people to rescue her. Sometimes that independence makes her push Rick away because she's afraid of looking weak. I loved watching the way that his confidence in her and her abilities made her better able to rescue herself from trouble caused by her father. There are some twists to Rick and who he is that make the relationship between them even more interesting.
There's an immediate attraction between Nell and Rick, but both try to resist it. Rick's issues with his past make him feel that he's not good enough for her. He also keeps his relationships short and light, and knows that Nell is not the fling type. Nell is attracted to Rick in a big way, but also knows that she could easily fall for him. That would be a ticket to heartbreak because he's already said that he will be leaving town soon. I loved seeing the way that they really got to know and understand each other. I really liked seeing Nell point out to Rick that he was running away from something that could be very good. I loved the ending and seeing how everything worked out for them.