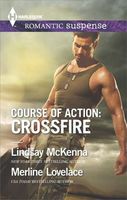 Series:
Sidewinders
(Book 3)
Hidden Heart ~ Lindsay McKenna
After being ambushed in Afghanistan, weapons sergeant Dan Taylor promises a fallen soldier he'll look out for his sister, Cait. But when Dan awakens wounded at a Pearl Harbor hospital, it's Cait, a physical therapist, who's assigned to his care. Now he must protect the woman he secretly loves from himself.
Very good story. Dan had been best friends with Cait's brother Ben for eight years. On their latest mission in Afghanistan Ben was killed in an ambush and before he died he asked Dan to watch out for his sister. What Ben never knew was that Dan had been in love with Cait for years. When Dan is wounded in the same attack, he is sent to the same hospital in Hawaii where Cait works as a physical therapist. To do what Ben asked of him, he's going to have to hide how he feels.
Cait is devastated by the death of her brother, but relieved to know that Dan is alive, though badly injured. She's had a thing for Dan since the first time Ben brought him home, but her overprotective brother would have been very much against Cait getting involved with a military man. She's done her best to follow Ben's wishes, but her heart can no longer be denied.
I loved Cait and Dan. Both had been so good at hiding their feelings that the other knew nothing about them until now. Dan thought he was imagining what he saw in Cait's eyes, chalking it up to the drugs he was on. Once he realized that she returned his feelings, he felt free to let her know how he felt. I loved seeing Cait finally start to let her feelings show. I really liked seeing how the two of them helped each other through their grief over Ben's death. As the weeks of Dan's recovery progressed, he and Cait's longtime friendship became much more. I loved seeing the relationship grow stronger. I really liked Dan's sensitivity to Cait's and her parents' grief as he planned out the future.
I loved the look into what the recovery process is like for injuries like Dan's and how important the right mindset is. I loved the way that Cait would motivate Dan, and his determination to reach each goal that she set for him.
One of my favorite things about this story was the setting. I was born in Hawaii, at Tripler Hospital, so it was nice to see it as a location in a book I was reading. I also loved the mention of Princess Kaiulani, as my parents gave me that name as my middle name. We left when I was a baby, but then I also lived there for four years after I was married. I have many great memories of my time there.
Desert Heat ~ Merline Lovelace
When terrorists burst into a concert hall to kidnap beautiful opera singer Riley Fairchild and an Omani prince, special forces sergeant Pete Winborne claims to be Riley's husband so he'll be kidnapped, too. Keeping everyone alive and escaping from the remote desert outpost with his heart intact will be his toughest mission yet.
Exciting and romantic story. Pete is a PJ, or pararescue jumper, one of the elite of the special forces. He's just finished an exercise in Oman, with one of their princes, when he finds out that Riley is also in Oman. She's friends with another Sidewinder's wife and he met her at their wedding. It wasn't an especially pleasant encounter, but they remember each other. Pete attends the concert that night, along with the prince. Shortly after the concert started, terrorists broke in, with the intent to kidnap the prince and Riley.
The suspense there was excellent. Pete may not have liked Riley at that point, but it didn't stop him from trying to protect her. I loved the scene where he convinces the terrorists that he is Riley's husband, and how her quick thinking helps with the convincing. The actual kidnapping and holding was very intense. Pete's training made him very prepared to do anything needed, but Riley didn't have that. I really liked the way that she kept her head together and was a help rather than a hindrance. The scene with filming the hostage video was fantastic. The escape was incredible, but also felt as though it could really happen that way.
During their ordeal, Pete and Riley had gotten very close, very fast. The attraction between them was strong and hot. When it was all over they took time for just the two of them and the attraction just grew. Both were thinking of ways that they could be together. A remark from her mother, who Riley doesn't get along with, had them both questioning the reality of their feelings. I loved the pact they made, to return to their jobs and see if what they are feeling holds up to real life, then get together in three months. Getting Pete's point of view during this time was great, as was seeing what he was doing during that time. I also loved seeing him meet up with fellow Sidewinders and get caught up on their lives. The comment about the wives' private facebook page was hilarious. The best part was the end and Riley's surprise for Pete.