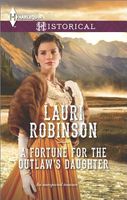 More precious than gold…
Cole "Lucky" DuMont is off to forge his future in the Alaskan hills. Standing in his way? A dark-haired beauty in need of rescue.
Maddie Stockwell's life has always been ruled by men. And now, to ensure her freedom, she strikes a deal with her gorgeous savior: she'll help Lucky in his quest, and find her own fortune along the way! Except when Maddie has to pose as Lucky's wife, she feels a thrill she could never have anticipated. And suddenly there's something even more tempting than gold on her mind…
Good story with the unusual setting of the Alaskan gold rush. Maddie had had a rough life so far. The daughter of an outlaw, she never had a regular home. When life got too dangerous, her father sent her to stay with a miner friend to protect her. After his death, Maddie decided it was time to take control of her life and headed to the California gold fields to make the money to set herself up with the home she always wanted. While there she was nearly captured by a man who had been chasing her for years, wanting her for his own nefarious purposes. She is rescued by Lucky DuMont, who has been instrumental in saving other girls over the years.
Lucky is on his way to Alaska to earn the money needed to save the family business in New Orleans. He'll be out of the rescuing business after he gets Maddie out of trouble. He doesn't expect to be attracted to the beautiful woman, or intrigued by her independence. When she proposes a partnership, exchanging her mining experience for his help in finding a claim, he is reluctant at first but eventually gives in. To further protect her, they pretend to be married.
I loved the relationship that built between Maddie and Lucky. Long experience has taught Maddie to be distrustful of men, but Lucky is one she comes to trust very quickly. She trusts him, but she doesn't just give in to everything he says. She's very independent and has no trouble letting him know when she doesn't agree with something. Lucky is sensitive to her needs and does a pretty good job of working with her rather than ordering her. Their partnership develops into a friendship, and that starts to grow into more. The attraction between them burns hot and they take advantage of their "married" status. Each of them starts to dream of a future together, but can't see how the other's stated dreams would mesh with their own desires.
I loved seeing Maddie's transformation from a wary victim to a woman confident in herself and her abilities. Lucky's influence showed her that there were more good people than bad. I really enjoyed seeing how her new found happiness had her reevaluating her dreams and plans. Lucky also found himself looking at his future differently, and trying to find a way to bring them together permanently.
When Maddie's past comes looking for her, Lucky's protective instincts kick in. He'll do whatever he has to in order to protect her. I also liked that Maddie is no shrinking violet when it comes to taking care of herself. The scene where she confronts the bad guy is pretty awesome. I also liked seeing how the other miners also take part in the confrontation. As the culprit gets away and both Lucky and Maddie are doing things to protect the other, they begin to realize that what they have is too special to give up. I loved seeing how they worked everything out, and the glimpse of what was to come.
I really enjoyed the gold rush setting. The bits of mining information were really interesting. I loved the characters of the various miners, especially Jack and Homer. It was fun to see how each of them interacted with Maddie and the effect each of them had on her.