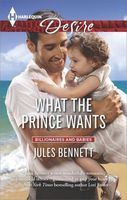 Series:
Billionaires and Babies
(Book 58)
What happens when a royal daddy falls for his child's live-in nanny?
Widowed Prince Mikos Colin Alexander wants to raise his little girl out of the spotlight. Granted a six-month leave from his royal duties, he escapes to Los Angeles, posing as a regular guy, one in need of a live-in nanny. Colin reluctantly hires Darcy Cooper, the curvy beauty who easily wins over his baby duchess. But soon the lush, love-shy American wins him over, too. Now he's torn between duty to the crown and what feels like his newfound family. But when Darcy discovers her emotionally distant boss is royalty, will all bets be off?
Good story about two people trying to protect their hearts and finding love instead. Colin (aka Prince Mikos) recently lost his wife and is still recovering from a climbing accident that he nearly didn't survive. At home in Galini the paparazzi give him no peace, so he takes a leave of absence from his royal duties and moves to Los Angeles. As his injuries are still causing him problems, he needs a live in nanny to help him care for his daughter.
Darcy needs this job badly. Her nanny agency has fallen on hard times because she trusted the wrong person. The handsome and charming man she loved and married embezzled from her business and used the money to buy gifts for his girlfriend. Not only did he ruin her business, he ended her hopes of having the money to adopt a child. She needs this job for the money to pay the last of the debts and get the business started again.
The initial meeting between Colin and Darcy did not go well. Colin expected an older woman, not a young and beautiful one. Even though his daughter takes to Darcy right away, Colin's immediate attraction to her is a distraction he feels he can't afford, so he tries to send her away. Darcy can't give up this job, so she talks him into a trial period. Darcy is just as attracted to Colin, but having been burned once, isn't willing to take a chance again.
I loved seeing the relationship build between Colin and Darcy. It starts with simple attraction that both of them try to fight. They try to keep things professional, and a friendship starts to build between them as they care for baby Iris. Darcy is truly impressed by Colin's insistence on being a hands on father, and Colin by Darcy's care for his daughter. Colin soon tires of resisting his attraction to Darcy, and wants her to give in to him, but she is not happy with the idea of a fling. Though she wants him just as much, she is determined to resist and insists that they not give in to temptation. That doesn't last long until she decides that she might as well enjoy what time they have. She knows that whatever they do will not last forever,
I loved how what Colin considered was just a case of desire grew into love, even though he tried to resist it. He found himself thinking more about Darcy becoming a permanent part of his life. Unfortunately, he has never told her who he really is and is afraid of her reaction when she does. Those fears are well founded when she finds out before he gets a chance to tell her himself. Darcy feels betrayed by his deception, and thinks that she has just had history repeat itself. She has to look at what she has with Colin and decide if she is willing to take a chance on him. I loved the ending and Colin's big moment.
I also enjoyed catching up with Colin's brother Stefan and his wife Victoria from
Behind Palace Doors
. Victoria said some things to Darcy that helped her with her decision on what to do.