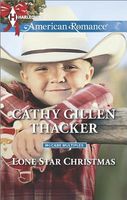 Series:
McCabe Multiples
(Book 2)
A TEXAS CHRISTMAS…
FAMILY STYLE!
Callie McCabe-Grimes has one thing on her holiday wish list: to make this the best Christmas ever for her little boy. Without including Nash Echols, whose team of lumberjack cowboys is creating a Texas-size racket at the Christmas tree farm next door! But she has no defense against two determined males when her son decides Nash is the extra-special present he wants from Santa.
Just the sight of the beautiful widow who bought the sprawling spread east of his puts Nash in the yuletide spirit. Callie and the toddler in the tyke-size cowboy hat fill his head with visions of the three of them together under one roof. That is, if Callie can let go of her past and picture a future with her one and only Lone Star cowboy!
Good story. Callie is a widow with a two year old son. She moved to the area to start her life over after losing her husband. The holidays are very hard for her, but she's doing her best to give Brian the best Christmas she can. She has started a ranch and corporate retreat and is ready to welcome her first guests when Nash's Christmas tree farm kicks into high gear. Suddenly the noise looks like it could kill her business before it really gets started.
The initial meeting between Nash and Callie was pretty fiery. Nash and his crew are cutting down trees, trying to fulfill a large order, when Callie arrives hot under the collar. She confronts Nash, telling him that he has to stop making so much noise and so on. Rather than being angry, Nash is pretty amused by her and basically tells her to stuff it. Later that day, Callie arrives at his place with her son to apologize and bring him a welcome dinner. After being invited to stay for dinner, they manage to work out a compromise. Nash is attracted to Callie, but thinks she is married, so tries to ignore it.
After inviting Nash and his crew to join them for Thanksgiving, Callie realizes that she's attracted to Nash also. But losing her husband devastated her and she's not ready to risk her heart again. Once Nash discovers that there's no husband in the picture, he feels free to pursue her.
I really liked Nash. He has tragedy and loss in his own background, but he has made the decision not to let his grief run his life. I loved seeing how he connected with Callie's son. The more time he spends with both of them, the deeper his feelings get for Callie. I liked seeing the way he kept up his pursuit, working to overcome her fears, even though he nearly gave up at one point.
Callie had built up some serious walls around her heart. She's really afraid that if she gives in to love again it could totally destroy her, so she tries to keep Nash at a distance. Unfortunately for her, he's determined to get past those walls. She tries to keep him to a physical relationship only, but can't hide from herself that she's falling for him. When Nash pushes a little too hard for more than she's ready for, it scares her into withdrawing from him. I loved seeing her finally open up to him about her fears, and how they worked things out together. I loved the surprise she had for him in the epilogue.
One of the best things about the book was Callie's son Brian. He was a real little sweetheart and he took to Nash right away. I loved seeing the way that he brought Callie and Nash closer together. I had fun seeing the way he would think things out before making a decision. He was also definitely his mother's son, as once he had decided something it was really hard to change his mind.