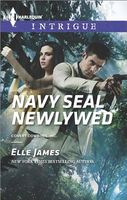 Series:
Covert Cowboys Inc.
(Book 6)
Here comes the bride…gun at her side
Navy SEAL "Rip" Cord Schafer is officially missing and presumed dead. It's the perfect cover until he can catch the traitors supplying Honduras terrorists with American arms. It's not a one-man operation, but never in his wildest dreams did he imagine teaming up with a woman -- Covert Cowboy operative Tracie Kosart.
Posing as wealthy newlyweds, Rip soon discovers Tracie is as skilled at playing his sensual "bride" as she is at covering his six. Despite their jungle-hot attraction, Rip senses Tracie's reluctance to trust him. But when her cover is blown, Rip knows her life depends on his SEAL instincts and her love depends on his unwavering commitment as her "husband."
At the end of
Navy Seal Justice
Cord had just been rescued, but the bad guys behind his trouble were still on the loose. Cord is determined to find out who they are and stop them. To do that, his rescue has been kept quiet and he is thought to be dead. It is not something he can do on his own, so with the help of the Covert Cowboys organization, he will have the help and backup that he needs. He doesn't expect that help to be female operative Tracie Kosart, and being paired up with a woman is not what he had in mind.
I loved their relationship right from the start. Cord makes his opinion known, but Tracie isn't one to back down from a challenge. It was great to see her match him every step of the way when it came to their covert activities. What they didn't expect was the attraction that made posing as newlyweds far too easy. Every time they touched the flames burned a little hotter and it got harder to resist giving in, until they decided to stop resisting. In spite of the reputation that SEALs have, Cord prefers to have emotions engaged when he's with a woman, but Tracie is insisting that it's just sex. He senses that there is something important behind her resistance. Tracie had been engaged to a fellow agent who turned out to be corrupt, and was just using her. And he was working for her boss, who was also corrupt. Their actions had resulted in her being held captive by a drug cartel until the Covert Cowboys came to her rescue. As a result, she has a great deal of trouble trusting men. Cord's caring attitude and growing respect for her abilities starts to build a trust she never thought she'd feel again. I loved seeing that trust turn into something more, and how they worked out having the future they both wanted.
The suspense and action in the story was wonderful. Cord was determined to find out who was behind the transfer of weapons to the terrorists. Each step of the way the danger increased. The confrontation with the coffee plantation owner who was also one of the terrorists gave them some of the information they needed. The raid on the terrorist camp was intense, and the evidence retrieved put them on the road to the next step. They were really close to a breakthrough when their cover was blown and Tracie ended up kidnapped. I loved her confidence and trust that Cord would find her, and also that she didn't just wait around for it to happen, but took steps to save herself. The final showdown was great, and didn't end there. I loved the takedown of the last player.