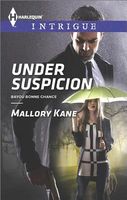 Series:
Bayou Bonne Chance
(Book 1)
Two federal agents must crack the secrets hidden deep in the bayou…
Undercover agent Zach Winters vows to expose the truth behind his best friend's death and protect the pregnant widow left behind. But his de facto partner, Maddy Tierney, isn't the average federal-agent-turned-bodyguard -- she's too beautiful, too capable and too damn tempting. It isn't until he rescues her from a kidnapping attempt that their relationship goes from uneasy to explosive. With the criminals closing in and time running out, Zach knows he'd put his own life on the line in order to protect a vulnerable widow. And to ensure the safety of the woman he can't imagine saying goodbye to.
Good book, and a little different than most undercover agent books that I've read. Zach has returned to his hometown for the first time since he was fifteen, in order to attend his best friend's funeral. When he arrives he discovers that not everything is as straightforward as he thought. The woman who the town thinks is a friend of the widow Sandy, is actually an undercover DHS agent, there to protect Sandy. Tristan wasn't just an oil rig worker, he was also an undercover DHS agent and there are questions about his death - not the least of which is where is his body. No one else knows that the coffin is empty.
The initial meeting between Zach and Maddy was very interesting. Each of them recognized that there was something different about the other, and initially didn't trust them. Once they realized they were on the same team things became a bit easier. Maddy had been sent there for a reason and was determined to protect Sandy and find out the truth of what was happening. Zach is there for purely personal reasons, but becomes intent on finding the truth. I found it very interesting that both are novice agents, not the superagents that usually appear in these books. Both are a little insecure about their own abilities, but find that together they are great. They also are intensely attracted to each other and have to fight it because of the distraction that happens because of it.
The suspense is quite good as they try to unravel the clues they found. It was also interesting to see how each of them treated the information they got, especially their individual encounters with Boudreau. Things got really intense at the end with the final confrontation with the bad guy. I also enjoyed the realism of the showdown and the effects that Maddy's capture had on her ability to help. There are still questions that need to be answered about Tristan's death. I have some suspicions about that and I'm looking forward to the next book to see if I'm right.