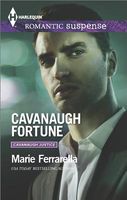 Series:
Cavanaugh Justice
(Book 29)
A ring of murderous hackers is casting a wide net of destruction, bringing down financial institutions and ruining lives. Detective Alex Brody must get to the bottom of the case immediately, but he needs help. Normally he'd rejoice at the idea of gaining a sexy new partner, but not this one...not a Cavanaugh.
Officer Valri Cavanaugh is pulled from the ranks to assist in a case that could make or break her career. She has the tech smarts, but her new partner thinks she's a privileged brat. As they delve deeper into the mystery, these unwitting partners find they have more in common than just a case--sizzling chemistry that is both startling...and potentially deadly.
Another good Cavanaugh book, this one involving the youngest of the "new" Cavanaughs. A local hacker and gamer has been murdered and his computer smashed. Finding out what was on it may provide the clues needed to catch the murderer. Alex's partner is in the hospital, so the Chief of Detectives gives Alex a temporary partner to help out. Valri is a street cop who has been pulled onto the case because she has the computer skills needed to find those clues.
Alex isn't very happy about the new partner, especially since she's a Cavanaugh. He thinks she's gotten the job because of her name, she looks and acts like she should be on someone's cheerleading team. He doesn't believe she has what it takes to be a detective and thinks he'd be better off working the case alone. Valri is happy to be working the case. It's a chance to learn the ropes as a detective, something she really wants, and the case looks like it will be a real challenge. Convincing Alex may take a little work, but she's sure she can do it.
There was terrific chemistry between Alex and Valri from the beginning, though Alex especially tried to resist it. I really loved the conversations between them as they worked, and also as Valri tried to get to know Alex better. It was fun to see Alex change his opinion of Valri's abilities as she used her gaming experience to get information from suspects. He's very wary around her at first, especially as she taps various members of the family for help on the case. His family is very different from hers, on the opposite side of the spectrum in fact, and he has no experience with anything like it. He's also trying very hard to resist his attraction to her, because she's his partner and also because he feels getting involved with someone with that many family ties would be a bad idea. This scene describes their early relationship quite well:
"Noelle, this is Detective Alex Brody." She looked at him and flashed an appreciative smile. "Brody's teaching me the ropes."
"Struggling not to tie her up in them at times," Alex added, leaning over his desk to shake Noelle's hand.
"I think Duncan expressed a similar sentiment when we first started working together," Noelle told the duo as she returned Alex's firm handshake.
Valri is just as attracted to Alex and wants to get to know him better. His lone wolf attitude is a bit of a challenge, but she's sure she can bring him around. I loved the way she showed him the good things about having family. It was great to see how she got Alex to the Cavanaugh wedding and then made her move on him. I really enjoyed seeing their relationship grow, and the epilogue was the perfect wrap up as Alex takes the final step of opening up about his past and making Valri part of his future. I am curious to see if that past makes an appearance in a later book.
The suspense of the story was good. I liked the timeliness of the story line, with the hackers and the way they were using their theft of personal information. I enjoyed the journey from the beginning through the various ways that Valri used her gamer and computer knowledge to unmask the bad guy. It got intense for a short bit at the end, during the final confrontation. It got a bit scary right after the arrest as the danger to Valri became obvious. I loved the hospital scene as the Cavanaughs did what they always do, and that poor nurse has to deal with them. I loved her "six more months" comment.