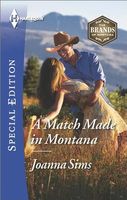 Series:
Brands of Montana
(Book 1)
YOU ARE CORDIALLY INVITED
TO THE BIG SKY ROMANCE
OF
JOSEPHINE BRAND
AND
LOGAN WOLF
AT
THE BRAND FAMILY'S MONTANA RANCH
When Officer Logan Wolf pulls over Josephine Brand for speeding, her stunning blue eyes pierce him. The laid-back policeman is instantly drawn to the intense law student. And Jo so happens to be the maid of honor in her sister's Montana wedding to his best friend! There's nothing Logan wants more than to charm the lovely brunette and redirect her passion to him…
Josephine's hurt when her commitment-phobic boyfriend, Brice, breaks up with her before the wedding. But fate places a sexy temptation in front of her in the form of Logan. He makes her laugh more than her ex ever did. Josephine's pain begins to fade…just as Brice shows up, wanting a second chance. Can Jo trust her heart to lead her to her own happy ending on the range?
Good book. It starts out with Josephine in a rush to get to the airport to meet her sister for their flight to Montana. She's distracted because of problems with her boyfriend and not paying attention to her speed and is pulled over by Logan. She's frustrated because she's normally very law abiding, but that doesn't seem to make any difference to Logan. He's intrigued by her intensity and her beautiful blue eyes. And better yet, she's maid of honor at the same wedding where he's the best man.
Jo is hurt and confused when her boyfriend of five years breaks up with her right before her sister's wedding. She's determined not to let it ruin her trip home so she spends some time getting to know Logan. Despite her initial impression that he was an uptight enforcer of rules, she discovers he's actually pretty laid back. A comfortable friendship develops as Logan's relaxed attitude balances out her tendency to go all out in anything she does.
I really enjoyed the way their relationship developed. Logan was smitten from the very beginning and wanted a chance to show her they could be good together. He knew that she had just broken up with her boyfriend, so he was very careful not to push her into anything. I loved the way he was there for her when she was upset and how he seemed to know when she needed comfort and when she needed distraction. Jo was slower to catch on. I got a bit frustrated with her when she would compare him with Brice, and not in the best way. I couldn't believe she would dismiss the idea of dating him because he was shorter than the men she usually went out with. It took awhile for her to actually see him for who he was, but once she did things started to pick up. I was a bit worried about what would happen between them because Jo was looking at their relationship as a summer fling, and Logan was more interested in the long term. I loved their camping trip and really felt that they had finally started to move in the same direction.
Jo made me really mad when Brice showed up and she didn't immediately kick him to the curb. I was glad she saw him for what he was, but she was too darned nice to him. Logan needed to step up a bit also and make sure that she understood his feelings. I loved the twist that she added to her apology to him, and his follow up at the end of the book. I'm looking forward to reading more stories about the Brand family.
One of the things I thoroughly enjoyed was the descriptions of the area Jo and the family called home. Everything from the cave to their camping trip up to the continental divide was made so vivid that I could picture it easily.