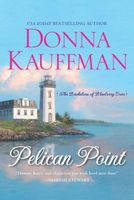 Series:
Bachelors of Blueberry Cove
(Book 1)
Blueberry Cove, Maine, is as small-town as small towns get. More than a little quirky, it has sheltered generations of families. But there's always room for a new face.. .
Fixing things has always been Alex McFarland's greatest gift and keenest pleasure. But with her own life thoroughly broken, she's signed on to renovate the dilapidated Pelican Point lighthouse, hoping to reconnect with herself. The last thing she expects is to find herself falling in love -- with the glorious coastline, with age-old secrets and welcome-home smiles...with rugged Logan McCrae, the man she just might be able to build new hopes on.
DIY is so much better with two...
Wonderful small town romance. Alex arrives in town at the request of one of the residents, to look at restoring the local lighthouse. She is the last surviving member of her family of lighthouse restoration experts and is trying to recover from the tragic death of her father. She needs this job for the money and to see if she still has what it takes to continue the work she loves. She hits town exhausted and hungry and promptly faints in the police chief's arms.
Logan is the police chief. He has his own tragedy in his past, but has found contentment in his hometown. His roots are deep and he likes taking care of the people of his town, even though they sometimes frustrate him. Logan also owns the lighthouse and other buildings, including the house he lives in. He has been working on the house himself when his job permits. He has resisted pressure to restore the lighthouse because of the memories attached to it, He isn't happy when his uncle goes behind his back and hires Alex.
There is an intense attraction between Logan and Alex from the beginning. I loved Alex's reaction to Logan's "sex god" voice. What they have is more than just chemistry. Each understands the other's pain and finds that pain shared is pain lessened. Though Logan resists Alex's presence at first, it isn't long before he wishes that she would stay. He knows that Alex's job takes her all over the country and world, and he is rooted in Blueberry Cove. He can't see any way that they can have a future together. Alex discovers a sense of home in Blueberry Cove that she's never had anywhere else. She's fallen just as hard for Logan, but like him, can't see a way to merge their lives.
I loved the interactions between Logan and Alex. Some of them are really funny, some are sweet, and some are truly heartwrenching. Their romance progresses in fits and starts, as they get closer but are pulled apart by their fears. Both have to look hard at what they really want from life, and they get there with a little assistance from the antique shop owner.
I loved the various residents of the town and their quirky natures. There were some funny times and moving times with a super soaker wielding old woman. The mayor and his wife make things interesting for Logan and Alex. I loved Logan's police sergeant and her sassy attitude, and the diner owner's tell it like it is approach to life. The flirtatious new Irishman in town is intriguing and I am really looking forward to his story.