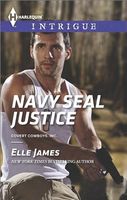 Series:
Covert Cowboys Inc.
(Book 5)
FBI agent Melissa Bradley is used to cryptic assignments like this: retrieve package from PO Box and deliver to old friend. Package in hand, she's attacked by thugs -- and she's not about to trust the tall, dark and dangerous rescuer who claims he was sent to protect her. A former navy SEAL turned cowboy suddenly reinstated as a SEAL, there's clearly more to James Monahan's covert op than he'll admit. When their mutual friend goes missing, they join forces deep in the swamplands of southern Mississippi to find him. But as a dangerous band of traitors, terrorists and killers close in, survival means trusting each other -- their toughest mission yet.
Very good book, with action that kept me hooked from the beginning. Both Melissa and James got messages from their friend Cord, asking for their help. He asked Melissa to pick up a package at the post office and bring it to him at a local bar. James was asked to watch out for her because Cord suspected that she might be in danger because of it. Thanks to Cord's call, James was there to help Melissa when she was attacked by thugs. The escape was exciting, and the initial interactions between Melissa and James were pretty funny. Melissa is a tough FBI agent, well able to take care of herself, and she has no trouble telling him so. But when they discover that Cord is missing, they decide that working together is the best way to find him.
James had been a navy SEAL before he left the service to take care of his dying father. After his passing, James went to work for Covert Cowboys Inc, and had just started when he got the call from Cord. Fortunately this sort of problem is right up their alley, and his boss pulls some strings to get James reassigned to his old SEAL team, where he can investigate more easily. His inner protector wants to keep Melissa out of the investigation and safe, but realistically he knows that's not possible.
I loved the interactions between them. Both are smart and determined and quite stubborn when circumstances call for it. They were also surprised by the attraction that flared up between them. Melissa is wary of it because she had been burned in relationships before, by men who couldn't handle her being an FBI agent. Trust builds very quickly between them as they work together, and that trust opens the door to other feelings. I liked the end where they decided they wanted to get to know each other better, rather than declaring instant love. It was a pretty sweet scene in the hospital room too.
The suspense and action of the story had me riveted to the end. The questions about what had gone wrong on the mission that sent Cord looking for answers, and then his disappearance, were the basis of the story. James and Melissa made a great team as each of them used their strengths to ferret out information. The intensity of the danger kept going up as the bad guys tried to stop them. The final confrontation was pretty gripping as James, with the help of the team, raced to save Melissa. I really loved seeing that she had a big part in saving herself. Part of the mystery has been solved, but there are still questions about who is behind it all. I'm looking forward to the next book to see if they are answered.