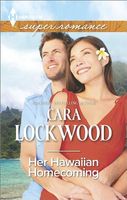 Series:
Heart of Hawaii
(Book 1)
An Unexpected Attraction...
For Allie Osaka, dealing with her tragic past means running from it. Inheriting her family's Kona coffee plantation on the Big Island of Hawaii is the last thing she expects when all she wants to do is keep running. Selling the inheritance and moving on sounds good, but her grandmother's will comes with a mighty catch--namely irresistible foreman Dallas McCormick, who owns "half" the plantation.
Flaring tempers and hotter-than-lava attraction can only lead to trouble. But when a tsunami threatens Allie's future and the promise Dallas made to her grandmother, they both might have to open their eyes to the truth...and to love.
Good book. Allie has come to Hawaii for the first time since she left at the age of eight. Her father had died in an accident for which she blamed herself. Now her grandmother has passed and Allie has returned to deal with the coffee plantation she has inherited. Her plan is to sell it, take the money and travel until she's ready to go on with her life. The timing has worked in her favor as she just ended her engagement when she discovered that her fiance was cheating on her.
The problem with selling right away is that there is a co-inheritor, plantation foreman Dallas McCormick, and he isn't interested in selling. The property can only be sold if both agree, and that agreement must be verified by her grandmother's friend Kaimana.
Sparks fly between Allie and Dallas from the moment they met. Allie is attracted to Dallas, but has sworn off men because of her cheating ex. Dallas is a good looking man and has the reputation of being a player. It is also said that he cheated on his former girlfriend and then walked away from her and her daughter. This hits too close to Allie's issues and she swears to stay away from him. Dallas is also attracted to Allie, but has issues of his own. His former girlfriend had used him, cheated on him, then cleaned out his bank account. She then proceeded to spread false rumors about him around the island. Dallas sees Allie's plans as just one more greedy woman out for what she can get. Dallas wants to make a success of the plantation, starting with winning a coffee competition. If each of them is going to get what they want, they are going to have to find a way to work together.
The initial encounters between Allie and Dallas are pretty bad. Both of them make snap judgments about the other and are reluctant to back down from them. There are also a couple times when both of them act like children arguing over toys instead of adults who have to find a way to get along. They have finally reached a truce when a tsunami hits the island creating devastating destruction.
At this point Allie and Dallas finally start acting like the mature adults that they are. I loved seeing how trouble brought out the best of them and they began to see past their initial assumptions. Allie saw that rather than being a selfish, cheating jerk, Dallas was actually a kind and compassionate man. Dallas discovered that Allie wasn't so much greedy as running from a world of pain. During and after the tsunami, Allie saw the way that the community worked together, something she had never seen before. It made her think about what it would be like to stay in a place where there was so much love to share.
I really liked seeing the relationship grow between Allie and Dallas. They learned a lot about themselves and each other as they worked together on the coffee competition. That's not to say that everything went smoothly between them. Both of them still had trust issues that flared up when Dallas's former girlfriend tried to get him back. Allie had visions of the same thing happening again, as Dallas became secretive about his ex, and Dallas had a hard time believing that Allie wouldn't just walk away from him at any time.
I loved how Allie finally saw the truth and stood up for Dallas against his ex. I really enjoyed their confrontation and what Allie did to make sure Dallas had a fair chance. Dallas also is finally able to let go of his past and look toward a future with Allie.
The secondary characters throughout the book were wonderful and gave a fantastic view of island life. Auntie Kaimana was hysterical with how she fooled Allie at the beginning as a way to keep Allie from trying to sell immediately. I loved the bits of Hawaiian lore that came up, and also how she helped Allie learn about her grandmother. I also loved Kai and his sister Jesse and really hope that they get stories of their own.