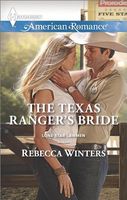 Series:
Lone Star Lawmen
(Book 1)
THE PRIDE OF TEXAS
With his roots tracing back to the original Texas Rangers, Cy Vance takes his job seriously. To protect and defend takes on new meaning when he's assigned to safeguard Kellie Parrish, a stunning-barrel racing celebrity who has a dangerous admirer. But going undercover to catch the stalker backfires when his inspired scheme awakens feelings that could compromise Cy's strict code of honor.
To her fans, Kellie just became the luckiest cowgirl on the planet. Too bad her marriage to the hunky lawman is a sham…even if it's starting to feel like the real thing. She and Cy share something special and rare. Is the dedicated Ranger ready to cowboy up and ask the question that will make him the true hero of her heart?
Very good book. Cy and his three fellow teammates are all descendants of original Texas Rangers and are just as devoted to their jobs. His latest case is to protect Kellie, a famous barrel racer who has a dangerous stalker. After investigating the threats, he comes up with an unorthodox scheme to do so. He proposes that they pretend to be married to draw out the stalker and make it possible to catch him. Kellie is surprised by the idea, but willing to do whatever it takes to stop the threats. It doesn't hurt that Cy is handsome and kind and makes her feel more than just safe with him.
There was an immediate connection between Cy and Kellie. Cy had a hard time keeping a professional distance when every instinct had him wanting to get closer to her. Even his boss warns him that this case has the potential to cause complications. I loved seeing Cy try to fight his feelings and discover that they are just too strong. As the danger intensifies, Cy realizes that he will risk anything to keep Kellie safe.
Kellie also felt the connection from the start. It made it very easy for her to go along with Cy's plan of a fake marriage. She had not expected to wish that it was real. She fought the feelings at first, fearing that she was simply feeling gratitude for his protection, but quickly realized that is was far more. But then her fears for his safety made her pull away, because she was afraid that she couldn't handle being afraid for him every time he went to work. Cy's friend and fellow Ranger told her something she couldn't forget "Decide you want it more than you're afraid of it". The ending was really sweet, with an unexpected occurrence on Kellie's road to the Finals.
The part of the story dealing with the stalker was very good. I could feel Kellie's fear as each threat arrived. I really enjoyed seeing how Kellie and Cy and the rest of the team worked together to track him down. There was a really interesting twist in the middle that added complications to their search. The escalation of the threats was intense, and the two attacks definitely added to Kellie's fears for Cy. How they turned out was exciting and very satisfying.