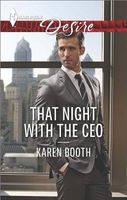 Series:
Langford Family
(Book 1)
It was a one-night stand -- until her next project has them working side by side!
Entrepreneur Adam Langford always gets what he wants. And he wants the blonde who shared his bed a year ago -- then vanished. Now a tabloid scandal whisks Melanie Costello back into his life -- as his new PR guru! But the real headline would be if their red-hot secret got out.
Transforming the rebellious image of the soon-to-be CEO will take Melanie's best makeover skills. But how do they hide their sizzling chemistry? Her PR firm is on the line. Will she risk everything for the one man she can't resist?
Adam and Melanie had had a one night stand a year ago. He never got her full name and had thought about her often since then. Now he's discovered that she's the PR specialist his father has hired to repair Adam's reputation and he wants more than her professional advice.
At the same time, Melanie is desperately hoping that he won't recognize her. She really needs this job to hang on to her business, after being betrayed by her former business partner and almost fiance. All she has to do is keep things businesslike.
Adam was a little bit cocky at the beginning, playing with Melanie and pretending that he didn't remember her. He's certain that he can get her back in his bed without too much trouble. Melanie is equally determined to resist, as the survival of her business depends on it. The attraction between them is really strong and it isn't easy.
I loved seeing the relationship develop between them. Adam is resistant to the makeover at the beginning and Melanie's efforts to convince him produce some pretty amusing conversations, especially with his attempts to pursue her. I really liked his comment "We both know the only way to enforce that is the honor system.." and her reply "Yeah, well you need to keep your honor system in your pants." Eventually they end up with a good working relationship, with Adam respecting Melanie and what she is doing for him. He also has the chance to really get to know her and understand why she is so determined to keep distance between them. I liked the bit of protectiveness that comes out when he learns about her ex. Melanie also learns a lot about Adam and that he is much more than what the tabloids portrayed him as. Her feelings for him grow and she has to deal with watching him date the fake girlfriend. The ending was really sweet, with Adam making it clear what he really wants.
The family dynamics that have put Adam in this position are really interesting. Adam's frustration at being forced into a position that he doesn't want is obvious, especially when his sister so clearly wants the job and is qualified for it. Their frustration with their father's old fashioned views is tempered by their love for him and desire to make his life easier. I'm looking forward to Anna's story. I also want to know more about the briefly mentioned oldest son Aiden.