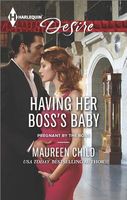 Series:
Pregnant by the Boss
(Book 1)
Billionaire game designer Brady Finn's latest business plan doesn't include a feisty Irish lass who challenges him at every turn. But Aine Donovan, the stunning manager of the hotel he just purchased, is as determined to prevent Brady from ruining tradition as Brady is to have her in his bed. When a no-strings fling leads to an unexpected pregnancy, Aine runs from her sexy, stubborn boss. What Brady doesn't know won't hurt him, right? But Brady won't give up on claiming her -- and their child -- so easily…
Very good book. Brady and his two coworkers own a successful video game design company. They have decided to branch out and have bought a castle/hotel in Ireland. They plan to turn it into a themed hotel, based on one of their most successful games. To work as his liaison on the castle renovations, Brady has sent for the hotel manager to come to California and meet with him. Aine isn't sure what to expect from Brady. All she knows is that she won't allow him to turn a stately old castle into a tacky theme park.
Sparks flew between Brady and Aine from the moment they met. Aine is a red-headed Irishwoman with a bit of a temper (reminded me of Maureen O'Hara) who wasn't real happy with the feeling that she's not getting any respect from him. Underlying those feelings was an intense physical attraction that she can't deny, but won't accept. She's got enough going with the hotel, starting something with her boss is a bad idea, and it couldn't go anywhere with the distance between them. Brady is just as attracted to her, and even more unhappy with the idea. He doesn't get involved with employees, and he sure as heck doesn't do relationships.
Brady is a man who keeps tight control over his emotions. He's never had a family of his own and doesn't believe that he ever will. Having never experienced that kind of love, he believes himself incapable of feeling it. As he and Aine spend more time together, working on the plans for the hotel, he becomes more fascinated by her and can't keep her off his mind. The attraction intensifies, but he keeps trying to push her away, until the night neither can resist any longer. But the strength of the experience and what he feels for her sends Brady into a panic, causing him to say some things that aren't very nice. Aine has realized that she is in love with Brady, but it is a love that won't be returned. She sees that he is a good man who is capable of love but she is unable to convince him. She goes home to Ireland the next day, ready to move on with her life.
The pregnancy is a surprise, but she is thrilled to have that piece of Brady. After everything he said to her, she decides not to tell him about the baby, believing that he wouldn't care. Five months later, Brady shows up, supposedly to check on progress, but in reality because he's been unable to forget her. He's furious she didn't tell him about the baby, and determined to do the right thing. But Aine refuses to be an obligation. She doesn't want his money or his duty, all she wants is his love.
I loved seeing Brady get absorbed into Aine's world. It was great to see the cold and distant man disappear under the onslaught of Irish cheer and hospitality. As he works to get Aine to see his point of view, his actions show the changes he is going through, but he doesn't see it himself. The confrontation between Brady and Aine, as she tells him what she needs from him and he refuses to believe that he can provide it, was heartbreaking. I loved the lecture he got from his friend Mike, and how he finally started to see the truth. His return to Aine was sweet and romantic, and seeing him let go of the past so he could have the future he wanted was fantastic.
I loved the setting of the castle and following along with the plans for what they are trying to do. Even though I'm not a gamer, it sounds like a place I would go to. I loved Aine's mother, Molly, and her unwavering support of Aine. I also enjoyed seeing her take Brady into her heart and give him the mother-like love he had never had. I'm looking forward to the next book with Mike and Jenny. He had such a clear eye for what was happening with Brady and what he needed to do, and he seems so blind to what is happening with himself. Should make another interesting relationship.