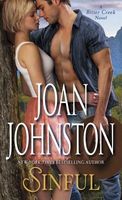 Series:
Bitter Creek
(Book 14)
WHILE HE SEEKS A HAVEN,
SHE SEARCHES FOR A PLACE TO CALL HOME
After a tragic accident leaves Delta sergeant Connor Flynn a widower, he faces the toughest fight of his life: battling his in-laws for custody of his two young children. To win he'll need a make-believe bride to take care of the kids while he runs his Wyoming ranch. Who better than a woman he already knows and likes -- his late wife's best friend?
Ruthlessly forced from her home by her powerful father, King Grayhawk, Eve needs somewhere to go . . . and so does the herd of wild mustangs she's rescued. Connor's offer sounds like the answer to a prayer. But Eve has a guilty secret she's guarded for years: She's always been in love with Connor.
Now forced to live under the same roof as her heart's desire, Eve must hide the love that has never died, while Connor vows to resist his growing need for a woman who was forbidden fruit during his marriage. Can two lonely people set adrift by fate and haunted by guilt find redemption in the healing embrace of love?
Very good book and story of a second chance at love. Connor and Eve come from two feuding families. Eve's father had been married to Connor's aunt until she died of a drug overdose. Connor's father blamed Eve's father for the death and their feud carried over to their children. Connor and his brothers (the Wild Flynn Boys) and Eve and her sisters (King's Brats) spent a lot of time as they were growing up pulling pranks on each other. One prank the Eve pulled on Connor ended up with him dating and then marrying her best friend Molly.
During his last tour in Afghanistan, Connor's wife was killed in an accident. Molly's parents took care of Connor's two kids until he came home, but then refused to give custody back to Connor. Strangely enough, it is testimony from Eve, who is also the kids' godmother, that results in Connor's success. But his kids don't know him any more, so he has to call on Eve for help getting the children settled. When it looks like he's going to need more than expected, he makes Eve an offer she can't refuse - marry him and she can have it all.
Eve is a wildlife photographer and recently rescued a herd of wild mustangs, which are currently living on her father's ranch. Thanks to the return of her estranged half brother, Eve is about to lose her home and a place to keep her horses. When Connor offers her a place for herself and her horses in exchange for her help, she can't say no. She loves his kids as if they were her own and will do anything for them.
But both Eve and Connor have a secret. Eve has been in love with Connor since they were in school, but because of their families she had never acted on it. Then he was married to her best friend, making him even more off limits. Now that Molly is gone, Eve feels guilty about being able to act on those feelings. Connor had also had feelings for Eve back during high school. He'd gone out with Molly to teach Eve a lesson, but over the next couple years had actually grown to love her. He was happy in his marriage, but there had always been something about Eve, even though he never acted on it. Now that there's no barrier between them, he has to fight his own guilty feelings.
I really liked the way that they both admitted their attraction to each other, even though they weren't quite ready to admit their feelings at first. They had the maturity to talk to each other about it. The chemistry between them was hot, and they were very willing to give in to it, even though fate seemed to make them work for it. They also get to know each other very well outside the bedroom. Eve helps Connor to deal with some of his memories of the war and supports his work with veterans on the ranch. Connor understands Eve's love of her photography work, and what she wants to have happen with her horses. I loved how they grew to trust each other with their hearts, and wanting what was best for the other person. I loved seeing the surprise each one had for the other at the end, and how those surprises came about.
As the first book in this part of the series, there's quite a bit of time spent on set up. The book started with Eve's father, King, finding his estranged son and working to get him to come back to Wyoming. There must be reasons for what he did, but the results make him even more unlikable. His son, Matt, is another man who seems cold and selfish, especially regarding his half sisters and what's to happen to them. I'm looking forward to finding out more about what caused their rift. Then there is Connor's father and brothers, who have their own parts in the drama. His father's actions when Connor married Eve were manipulative, and I loved seeing Connor stand up to him. Angus also seem to have some kind of revenge plot going on that will affect the Grayhawks. There are also some extra tensions between one of his brothers and one of Eve's sisters that I am looking forward to finding out more about. There also seems to be some mystery involving Connor's brother Devon. I'm looking forward to the rest of the series to see how all of these play out.