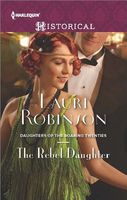 Series:
Daughters of the Roaring Twenties
(Book 3)
For every wild child…
No more watching from the sidelines for Twyla Nightingale: her feet are firmly on the dance floor! She won't let anyone sour the delicious taste of freedom -- especially not Forrest Reynolds, back in town after all this time.
…there's a guy who thinks she's the bee's knees.
Forrest didn't expect a warm welcome from the Nightingale sisters, not after their lives had been so dramatically upturned. But seeing the challenge in Twyla's eyes, Forrest takes this rebel for a wild dance she won't forget!
Very good book, and one I liked even better than the previous book. Twyla is the second daughter and the one with the rebellious personality. In the last several years she's gotten very tired of her father's and older sister's overprotective tendencies and has done everything she can to break out. She's snuck out to boxing matches and run a kissing booth. It's only recently that her older sister has started to allow Twyla and Josie to help with the resort events and she isn't going to let anything stop her now. That includes Forrest Reynolds, who come back to town after five years away.
Forrest had left before the Nightingale resort had become a big business. He had been friends with Twyla and her sisters since they were children, until a flu epidemic killed their mother and his little brother. Forrest's father blamed her for the death of his son and began making threats against them, especially as the girls got older and prettier. Forrest thought it would be better if he left town rather than provide his father with more fuel for his hate. He didn't know the effect his departure had on Twyla, and there ended up being more to his leaving than she knew about.
Forrest's father is also guilty of some really bad things, and Twyla's father,though no angel himself, has the contacts to get him arrested. Once he's in prison, Forrest returns to take over the property. He doesn't really want to do it, as his interests lie in flying, but he feels responsible for it. He doesn't expect to be welcomed by the sisters, thanks to the way he left, but seeing Twyla again has him wondering what might be possible.
Twyla had had a crush on Forrest before he left, but thought he was in love with her sister. Now that he's back, she's afraid he'll try to break up her sister's romance, as she's convinced he's still in love with her. Meanwhile, she's even more attracted to him now that she was before. Forrest tries to convince her that he has no interest in Norma Rose, but she's not buying it. The sister that he's really interested in is Twyla herself, but he doesn't want to put her in danger by pursuing her. I loved seeing his fascination with her and how it becomes too hard for him to resist her. I really loved the part where he took her flying. It was also wonderful to see how well he understood her when the flight was followed by a confrontation with Norma Rose and he was able to make her see how best to deal with her sister. Their feelings for each other continue to grow stronger, but both of them have some baggage from their past that they will have to deal with first. Twyla's attempt to help him nearly ruins everything, and some of the things he says to her hurt her a lot. I ached for her as she tried to accept the end of their relationship. I loved seeing Forrest kicking himself for being an idiot and letting his fears get in the way. His moment at the end was sweet and romantic and I loved seeing how it worked out.
There's a mystery running throughout the book regarding Forrest's father and what he had really been into. Word has come that he will begetting out of prison soon, and Forrest is worried about what sort of revenge he might take on the Nightingales. I liked seeing how Forrest enlisted Roger's and Ty's help and tried to keep Twyla out of it. Twyla, of course, refuses to be left out, and gets more deeply involved as the book goes on. When the truth about Galen Reynolds' activities comes out, Forrest and Twyla end up in serious danger. I loved the excitement and intensity of how they handled it, and seeing how well Forrest and Twyla worked together. The resolution was quite satisfying all around. There was an interesting twist revealed by Forrest's mother, and I was a bit disappointed that it wasn't resolved by the end of the book.