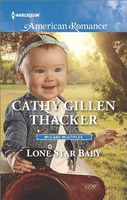 Series:
McCabe Multiples
(Book 5)
PRACTICE MADE PERFECT
Suddenly finding herself a foster parent to an infant girl definitely shakes things up for Doctor Violet McCabe. Especially because her attractive and pragmatic colleague, Doctor Gavin Monroe, is little Ava's co-guardian. Gavin has doubts about the arrangement, but idealistic Violet is certain they can work together to care for Ava while they find the perfect adoptive family.
Gavin secretly crushed on sexy, irrepressible Violet for years, but after losing her fiancé, Violet's heart was impenetrable. Ava changes everything. For once, Violet is ready to embrace the unpredictable…maybe even love. But Gavin fears he's not the father Ava needs or the man Violet deserves. In their search for a perfect home for Ava, will Violet and Gavin miss that the best family for her is the one they've already created?
Sweet story. After the death of a former patient, Gavin and Violet find themselves named as foster parents for a newborn baby girl. They've been coworkers and friends for awhile, but this is something entirely different. The question is whether they can co-parent the baby without getting emotionally involved with her or each other. Violet is certain they can, Gavin is not so sure.
Violet came home to Laramie to work in the hospital there, after she lost her fiance to cancer. She's put her heart and soul into her work and avoided any kind of personal relationships until little Ava worked her way past Violet's walls and into her heart. Added to the attraction she feels for Gavin, Violet's life has gotten very complicated. She started out convinced that the best thing for Ava was to find the perfect set of adoptive parents for her, but was soon dreaming of making Ava her own. Having a pseudo-family with the three of them has her wishing it could be real.
Gavin came home to work in the hospital in order to be closer to his family. He's carrying some guilty feelings over not having been there enough after their parents were killed just as he was starting medical school. Being named as guardian for Ava just reinforces his fears that he doesn't have what it takes to be emotionally responsible for another human being. He's determined to keep things practical while they search for the perfect family for Ava. He doesn't count on falling for the little girl himself.
I loved seeing the connection between Gavin and Violet and how it grew. Gavin had been attracted to Violet for awhile, but saw that her grief for her fiance wasn't letting her move on. Being forced into close proximity with her gave him the chance to show her what she was missing. Unknown to him, Violet had finally reached the point where she was ready to move on. Her attraction to Gavin gives her the perfect stepping off point. They first agree that they will have a "fling" for as long as they are caring for Ava, but soon realize that they don't really want it to end. I loved seeing how quickly they became a family. Ava has brought them together and shown them how much love they have to give, both her and each other, but they have to be willing to accept it.
But they have a big obstacle between them to overcome. Violet is ready to open her heart and take a risk again, to keep Ava and raise her, even without Gavin by her side. Gavin refuses to believe that he has what it takes to give Ava everything she needs and insists that giving her up is the best thing to do. I loved seeing Violet stand up for what she wants and what she needs from Gavin, finally putting her past behind her. Gavin takes a bit longer and it takes a pretty straight conversation with his younger brother to show him the truth. His actions at the end are quite romantic and sweet for a guy who considers himself pragmatic. The epilogue was a nice glimpse at their future.
I liked the inclusion of the issues Gavin and his family were having with his younger brother Nicholas. It was a good way to show the effect of his parents' deaths on all of them, and how each dealt with it. Nicholas's actions showcased the changes that Gavin was going through thanks to Violet's influence. My only problem with the story was with Violet's parents. In each book of this series I have been very disappointed in their attitudes towards their daughters. They always seem to have poor opinions of the girls' abilities to make the right decisions regarding their relationships. I also felt that Violet's father crossed a line when he talked to Gavin, since he is also Gavin's boss. I know it works out in the end, but I'd rather see them supporting from the beginning.