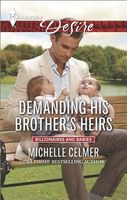 Series:
Billionaires and Babies
(Book 60)
Is Holly Shay seeing a ghost? The man on her doorstep is the spitting image of her baby twins' late father, but when he explains who he is, she feels relief and attraction…not necessarily in that order.
When he hears that his troubled twin brother has died, Jason Cavanaugh rushes in to help his nephews. And if staking his claim on the kids means claiming Holly as his own, he's game -- up to a point. Because there's a time bomb ticking inside Jason that could blow his chances with Holly right out of the water…
Very good book. Holly has been dealing with a whole host of problems. She is the mother of twin boys, whose father is dead. She had married him because she was pregnant, not knowing that he had drug problems. With his death, she discovered that he had left massive debts, which she currently has no way to pay. Without income, she will also soon be homeless. When her doorbell rings one night, she is stunned to find a man that looks just like her husband standing there, a man who turns out to be her husband's twin brother.
Holly finds out that her husband had told her a bunch of lies about who he was and where he had come from. When Jason explains who he is, and that he wants to help, she is relieved, but also cautious. Having been deceived once, she doesn't want to risk it again. It doesn't take too long for her to realize that Jason is the real thing, which creates a different kind of problem. She is very attracted to him.
Jason was stunned to find out that his brother had not only married, but fathered twin boys. He is determined to do whatever is necessary to take care of them. Making Holly part of the package is no hardship. In spite of her frazzled appearance, he was attracted to her from the moment he met her. He'd like to get closer to her, but he's got his own secret that is keeping him at a distance.
I really liked Jason. He is a wonderful man who really cares about the people around him. He had done everything he could to help his brother, and felt guilty that nothing had worked. It was really sweet to see how quickly he took to the boys. The attraction he feels for Holly is really strong, and his feelings for her grow rapidly, but he has health issues that make him reluctant to marry and have a family of his own. I liked the way that he was honest with her about it, even though he was being terribly pessimistic. He tries very hard to keep their relationship to just friends, but it is a losing battle.
I loved Holly's independence. She really wants to be able to handle everything herself, but she has to admit that she needs help. She also sees Jason's need to take care of the twins, since they are the only family he has left. She's also just as attracted to him as he is to her and is willing to see where it goes, until he explains his issues to her. She starts out agreeing with him that they should stick to being friends, but the more she gets to know him the more she wants him.
I loved seeing the relationship develop between Holly and Jason. I loved seeing them give in to the passion that went along with their friendship. It grew rapidly into love, but neither would admit it to the other. Jason had begun to realize that his fears were a bit extreme, but he wasn't sure how to tell Holly that he had changed. Holly had also realized that she would rather have whatever time she could with Jason, rather than deny them both the life that they wanted. There was a very interesting twist at the end that surprised both Holly and Jason. I loved seeing them finally have the courage to share their feelings and look forward to a future together. I would have liked an epilogue to see the results of that surprise, but maybe they'll show up in a later book.
I also liked the secondary characters of Lewis and Miranda and the struggles they were going through. It was nice to see Holly and Miranda develop such a wonderful friendship, and the support they gave each other. I loved seeing Holly be there for Miranda during her troubles, and how Miranda repaid her. The bathing suit scene was pretty funny, especially with the resulting discovery.