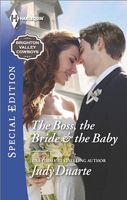 Series:
Brighton Valley Cowboys
(Book 1)
FROM CEO…TO DADDY?
Texas tycoon Jason Rayburn had been raised to take charge. To make decisions. To avoid emotion. So when he's forced to return to Brighton Valley to inventory his grandmother's small-town ranch for sale, the executive delegates the work to his new hire, local waitress Juliana Bailey. Jason never mixes business with pleasure, but even he can't ignore his attraction to the redheaded beauty -- in spite of the secret she's clearly hiding…
For Juliana, the job at the Leaning R was too good to be true, offering her a place to lie low until she could confess her pregnancy to her family -- and avoid local scandal. But she hadn't counted on the searing sparks flying with the corporate cowboy! Now, the expectant assistant knows the billionaire boss is no family man. But she'll fight for the right to show him he's got daddy potential!
Good book. Jason has come back to Brighton Valley to start the process of selling his grandmother's ranch. First thing that needs to be done is an inventory of the contents, something he doesn't have time to do himself. He hires Juliana, one of his sister's friends, to work on it for him. Meanwhile, he's trying to run his business long distance and help the foreman with the rest of the ranch. He hadn't seen Juliana in years, but she's certainly made an impression on him now,
Juliana is thrilled with Jason's offer of a job. She left her previous job in an art gallery after discovering that the man she thought she loved had lied to her in the worst ways. To make matters worse, she is pregnant with his baby. Brighton Valley is a small town and she wants to keep her troubles secret as long as she can. Working for Jason gives her someplace to hide out while she figures out what to do next. She didn't expect the heated attraction between them.
I liked Jason a lot, though he certainly had some issues to overcome. He is the oldest of the three Rayburn siblings and the one who runs the family business. His father had been a womanizer and Jason's brother and sister each had different mothers than he did. Jason had been sent off to boarding school as a kid and had never spent any real time with his siblings. His only experience with any kind of family love came from his grandmother when he was on school breaks, so emotion has never been a big part of his life. Being back on the ranch brings back good memories, but he fights off the temptation to hang on to the ranch. He doesn't have time to run it and his brother and sister don't either. His attraction to Juliana is one more distraction he doesn't need, but finds hard to resist. Once he discovers her secret, he also discovers a protective tendency he never suspected he had. He doesn't know what to do with the feelings he begins to have for her, as he is certain that he is not cut out to be a husband and father. He makes a couple mistakes in his attempts to take care of her, and it isn't until she leaves that he realizes just how important to him she has become. But he's not sure that he can be what she needs.
I also liked Juliana, though I did occasionally get a bit frustrated with her. Her belief that her mother and grandmother would be ashamed of her had her hiding her pregnancy from them. I felt that she wasn't giving them a fair chance to stand behind her. Juliana also tries to fight the attraction to Jason. She's already made one mistake with a man, she doesn't want to risk it again. As they spend time together, she starts to feel that maybe he is different and that there is hope for something more. But then he does something that makes her feel the same way her ex did. I liked seeing her call him out on what he did and that she stands up for her own needs. I enjoyed the ending and seeing Jason as something different than the superconfident man everyone is used to.
There's also a little bit of a mystery running through the book regarding an artist that their father had been searching for. Their brother Braden had been following their father's footsteps in Mexico in the search. Back at home, Jason and Juliana found some new information. The questions are unanswered yet at the end of the book, but Jason and Juliana plan to pick up where Braden left off. I'm looking forward to seeing where it goes, and if my suspicion turns out to be true.