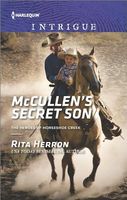 Series:
Heroes of Horseshoe Creek
(Book 2)
HIS CHILD'S LIFE WAS ON THE LINE -- AND TIME WAS RUNNING OUT…
Sexy-as-sin rodeo star Brett McCullen is Willow James Howard's past. But when her estranged husband is killed and her son kidnapped, she's forced to accept help from the man who broke her heart. Little does Brett know that the very child he's trying to rescue is his own flesh and blood -- the result of a fling years earlier. He can't deny his rising desire at Willow's reappearance…even as he struggles to forgive her secret. But with the ransom deadline looming, Brett must go to extremes to save the family he never knew he wanted…
Very good book with action from the beginning and a couple with a second chance to get it right. Brett has returned to Pistol Whip for two reasons, first to make peace with his dying father, and second to decide what to do with his future. He's been on the rodeo circuit for twelve years and his body has about had enough, but he's not sure what's next. Then his father tells him that he's sorry for splitting up Brett and his girlfriend Willow, and that he's worried about Willow because of her husband. He makes Brett promise to check up on her.
Willow is aware that Brett is home for a visit, but she tries to avoid seeing him. They had been in love during high school, but she knew he wanted more than being stuck on the ranch, so she wasn't surprised when he left. She saw him again five years ago and they had one passionate night together, then he disappeared back to the rodeo circuit. When she discovered she was pregnant, she didn't contact him, not wanting to trap him in a situation he didn't ask for. Instead, she married another man, one who seemed charming and caring, only to discover that he was abusive, controlling and unfaithful. They've been separated for three years and she had just gotten him to agree to a divorce when she came home to discover that he'd been murdered in her house and her son had been kidnapped. Told not to contact police, Brett is the only person she feels she can turn to.
When Brett responds to Willow's hysterical phone call, he's horrified by what he finds in her house. He knows he should call the sheriff, who is also his brother, but knowing that her son could die if he does, he agrees to help cover it up until they can rescue Sam. The descriptions of what they did were vivid enough that I felt I was there, and could feel Willow's terror for the safety of her son. I loved Brett's protectiveness as he took care of Willow and promised that they would find Sam. Willow feels tremendous guilt over not telling Brett about Sam, but she still keeps her secret, fearing that he would be too angry with her to continue to help.
I really enjoyed seeing how Brett and Willow found their way back to each other. Brett had never forgotten his feelings for her, but believing that she had moved on, he hadn't tried to see her again after that one night. He had taken advantage of his rodeo stardom to drown his memories of her with booze and rodeo groupies, but finally realized that it didn't help. Being near her again showed him that he was ready to move on to a new stage in life and that he wanted Willow to be part of it even before he knew the truth. When he found out about Sam, he was afraid that Willow hadn't told him because she didn't think he would be a good father. I loved seeing how happy he was to be a dad and how quickly he and Sam took to each other. Willow had admitted to herself that she had never really loved her husband but had been looking for the stability of a family of her own. Being near Brett again shows her that she had never stopped loving him, but she doesn't believe that he'll ever want to settle down. She doesn't want to trap him, so she doesn't say anything to him about her feelings. I loved the ending and seeing how everything worked out.
The mystery itself, of why Sam had been kidnapped and what the kidnappers wanted was really good. I could feel Willow's fear and desperation as they tried to find Sam. The steps they took to try to find out who was behind it only intensified the danger they were in. For total amateurs they were pretty good investigators. There was an interesting twist at the end with the identity of one of the kidnappers that I didn't see coming. The scene at the mine was really scary, but did bring Brett and his brothers closer together. It had a satisfactory resolution.