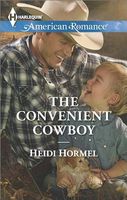 WHAT A COWGIRL'S GOTTA DO…
A wedding of convenience isn't exactly cowgirl Olympia James's dream -- she wants the rodeo, not a husband. But marrying Arizona lawyer Spencer MacCormack will make a lot of other dreams come true. Spence needs a stable home to win custody of his little boy, and with Spence's help, Olympia can finally pay for her sister's tuition and hit the barrel racing circuit.
But while the marriage is supposed to be just on paper, their chemistry is volatile…and the night they spent together weeks ago leads to a surprise: Olympia is pregnant. Soon the ranch is home to a baby, Spence's sweet cowboy son and feelings Olympia and Spence can't deny. This fake relationship is quickly getting all too real. Maybe it's more than just business…
Olympia and Spence had met three months earlier, when her friend married his brother. They ended up spending the night together then going their separate ways. Now Spence needs to be married in order to get custody of his son, but he doesn't really want a wife. He remembers talking to Olympia and hearing about her dreams for a rodeo future and the delay in those dreams because she needs to come up with the money for her sister's tuition. He proposes a marriage of convenience, one long enough for him to get custody, in exchange for paying her sister's tuition.
Olympia accepts on condition that he doesn't expect her to deal with his son. She comes from a long line of women who have made bad decisions regarding men. Both her mother and grandmother spent more time looking for a new man than caring for their kids, leaving Olympia certain that she doesn't have a single mothering gene in her body. That's fine with Spence. He's been married to one woman who was a terrible mother, he's not looking to repeat his mistake. Plus, he doesn't want Calvin to get attached to someone who is just going to walk away in a year or so.
There were two things they didn't count on. First was the attraction that was still burning between them, making it really hard to keep things platonic between them. Second was Olympia turning out to be pregnant from their previous night together. Olympia is horrified, certain that she'd ruin the kid's life, and wants to give the baby up for adoption. Spence, of course, won't go along with that. He's more than willing to take on this baby along with his son, once he gains custody.
There were things I liked and didn't like about both Olympia and Spence. Olympia bugged me at the beginning with her attitude about their marriage. She was happy to take the money that Spence offered, but she wasn't being at all flexible when it came to what he needed from her. I understood her fears, but she was pretty obnoxious about what she would and wouldn't do. She redeemed herself pretty well after Spence's ex dropped off Calvin and disappeared. She turned out to be much better with him than she expected.
I also understood Spence's fears when it came to protecting Calvin. The little boy had had some health issues, so Spence is really protective, overly so at times. He loves his son very much, and wants him back home with him, but his ex-in-laws are fighting it. He needs Olympia's help to make it look like he has a stable home. I really liked how well he took care of Olympia when she was so sick from the pregnancy. He was really sweet about it, and some of the things he did were pretty adorable.
I did enjoy seeing their relationship grow from partners to couple. The attraction got them started, then having to depend on each other moved things along. Because Spence was away from home on a business trip when Calvin was dropped off, he had to depend on Olympia to take care of him. It was really hard for him to believe that she can be the mother he needs when she's planning to leave after the baby is born. I loved seeing him realize that there is more to her than he had expected, and that he doesn't want her to leave. On Olympia's side, she had to learn to trust that Spence was not like her father and the other men her mom had been with. He is the kind you can depend on to stay. She also had to learn that it was okay for dreams to change. I really enjoyed the ending and seeing how they became a family.