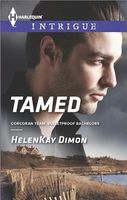 Series:
Corcoran Team: Bulletproof Bachelors
(Book 3)
SHE WAS OFF-LIMITS UNTIL HER LIFE WAS ON THE LINE…
Agent Shane Baker has denied his attraction to his best friend's younger sister for years. But when computer guru Makena Kingston's latest online investigation stirs up a series of break-ins, Shane isn't about to let the vulnerable beauty fend for herself. Makena refuses to be seen as anything but the alpha male's equal…even as she finds comfort in his protective arms. But soon they uncover the threat to Makena is closer than either of them expected. With Shane's bodyguard instincts on overdrive, he knows keeping his professional distance will be nearly impossible. Because even the most highly trained operative has his breaking point.
Excellent conclusion to the Corcoran Team series. Shane is the last of the unattached team members. He expects to stay that way, as his family history stinks when it comes to relationships, plus he's already failed at marriage once. The only bright side to his life is his friendship with his best friend's younger sister. He refuses to admit to himself that he feels more than friendship.
Makena has been in love with Shane for years, but she hasn't been able to get him to notice her. She keeps hoping and trying. When the book starts, she's invited him to dinner, as she often does. While she's waiting, she sees her neighbor's house broken into. One of the men sees her looking and comes after her. She's fighting back but losing when Shane arrives and rescues her. A search of the attacker reveals that Makena, not her neighbor, was the target, sending Shane into protector mode.
It doesn't take long for Shane to get Makena to admit that she works for a website that exposes people who lie about their military service. Some of those people don't take it well, and Makena seems to be the focus of their rage. But as Shane and the other members of the team try to find out who is responsible, the attacks escalate. The more information they uncover, the more complicated things become. There were several people it could be. The final confrontation was intense, with a bit of a twist as to who was behind it and why.
I loved seeing Shane and Makena together. Once Shane is forced into bodyguard mode, it brings his feelings roaring to the surface. He tried to fight it, but with Makena determined to take advantage, he didn't have a chance. One of the things I really liked about Shane, was that even while protecting her he didn't try to coddle her or hide things from her. He showed her that he believed in her. At the same time, Makena was trying to show Shane that he can be loved in a lasting way, and that his past doesn't have to affect his future. He has his moments of doubt at the end, but does come through it. It was really fun to see the other team members giving Shane a hard time, because they've always known his feelings for Makena. The only thing missing was getting to see the actual conversation between Holt and Shane. I did love the ending.