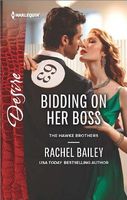 Series:
Hawke Brothers
(Book 2)
Florist Faith Crawford has a brilliant plan -- win her company's CEO at a bachelor auction and use their "date" to show him her designs. But her plan backfires when the focus of their meeting shifts from flowers to a floor-tilting kiss.
For Dylan Hawke, it's time for damage control. Promoting the talented Faith is a no-brainer, but fraternizing with her is strictly forbidden. Dylan must remain professional -- the fate of his business rests in the balance. Too bad Dylan won't rest until he gets another kiss…
Very good book. Faith is a talented florist who works for Hawke's Blooms. She's been trying to get one of her designs into the company catalog, but has met resistance from her manager. So she decides to bid on CEO Dylan Hawke at a charity auction and use their date to show him what she can do. She doesn't expect the attraction that flares up between them.
Dylan is the youngest of the Hawke brothers and the one known for being a bit of a playboy. With his older brother about to marry a princess (
The Nanny Proposition
) he feels that it is time to change his reputation. He starts by offering himself as one of the bachelors for his new sister-in-law's charity auction. He notices "Faith Sixty-three" as soon as she starts bidding on him and is looking forward to their date - until he discovers that she works for him.
I loved the auction. Dylan isn't really comfortable doing it, but it says a lot about him that he was willing to put himself through it to help out Jenna. It was fun to see him rooting for Faith to be the winner. The zing of attraction has him really looking forward to their date. His disappointment the next day, when he discovered she's an employee, was deep. I also loved his initial confusion over just what it was she wanted. I liked Faith and how she found a way to go after what she wants. All she's looking for is an honest chance to get her work looked at. She wasn't expecting to want Dylan in a personal way, and she fought it. She knows the company policy also. When their first "date" doesn't go as expected, she's determined to try again, but the after effects of the unexpected kiss they shared are hard to ignore. I loved her reaction to the promotion she was offered and how she made Dylan understand her point of view.
It was great to see the way that Dylan began to understand Faith and what she was really looking for. I loved the way that he introduced her to his brother Liam, and the doors that opened for her. Because of the company policy against fraternization, they tried very hard to keep things professional, but it was a losing battle. I loved seeing the way that they were able to share parts of their pasts with each other, and how they got closer because of it. But when her emotions started getting involved, Faith panicked.
Because of events in her past, Faith doesn't trust that anyone she cares about will stay in her life. She's afraid that the same thing will happen with Dylan, so she pulls away first. I hurt for him, because he had put his feelings out there, but he had also missed doing some things that would make her believe in him. A kick in the seat from his brothers made him see where he went wrong. I loved the ending and seeing Dylan's "go big" moment and how Faith reacted.
I really enjoyed the background of the flower business and seeing some of the behind the scenes things. I loved Dylan's recounting of how the business began and the parts he and his brothers played when they were younger. The story of the new flower and the things that went into its launch were really interesting. I also enjoyed the relationship the brothers had with each other. It was fun to see them give Dylan a hard time, but they were there to support him when he needed them. I'm really looking forward to Adam's story.