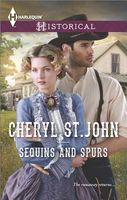 Her last chance at redemption
Singer Ruby Dearing is tired of life on the stage and yearns for a place to belong. She returns home to beg forgiveness from her mother and sister, only to find stubborn Nash Sommerton -- her sister's widower -- in charge.
Nash is prepared to fight this unruly beauty for his ranch, but Ruby amazes him with her determination to restore the house to the home it once was. Can he persuade Ruby to forgive herself and see the second chance they've both been given?
Good story of second chances. Ruby had left home at sixteen, tired of life on the farm and dreaming of a bigger world. She spent eight years as a singer and actress, moving from town to town. Now she's tired of life on the move and ready to go home and ask her mother and sister to forgive her for leaving them. But she arrives home to discover that her mother and sister have died and her sister's husband in charge.
Nash isn't sure what to make of Ruby. For his entire marriage he has resented the way that she just disappeared, leaving her sister alone to care for their mother. He doesn't know what she wants or if she can be trusted, so he's going to keep a close eye on her.
I really liked Ruby. She has a lot of guilty feelings over the way she left and that she didn't come home in time to ask for their forgiveness. She understands Nash's doubts about her and is determined to show him that she belongs there too. I loved watching her tackle each challenge as it came up, from learning how to cook a chicken to facing the townspeople she left behind. She also has a really kind heart and doesn't hesitate to stand up for what she believes is right. The scene with the abused horses is just one example. She also aches for family of her own, and falls hard for her niece and nephew. She's determined to take good care of them, the way her sister would have wanted. Though she's never been around kids before, she really does a fantastic job of looking out for them. She also has no hesitation about taking in a young orphaned girl who has been abused.
Nash is also quite wonderful, in spite of his initial attitude toward Ruby. He has some guilty feelings of his own about his marriage, believing that he hadn't treated his wife the way he should have. He spent a lot of time working on making the ranch a success, thinking that he had plenty of time to then work on making his marriage a success. Instead, she died before he had the chance. Now he has Ruby showing up and shaking up his life. From their first encounter, involving a skillet and his head, he doesn't know what to expect. She claims she's home to stay, but can he trust that she really will?
Nash and Ruby have a strong pull toward each other, but both try to resist it, feeling that it is inappropriate. Nash especially can't get Ruby off his mind, and the longer she stays the more he begins to believe that he has misjudged her. He's a strong man with a strong will, but he is also able to admit when he is wrong. I really enjoyed seeing Nash come to appreciate Ruby and the way she takes care of everyone. Ruby's biggest issue becomes one of deciding if she can forgive herself enough to believe that she deserves to be happy. I liked the way that Nash had a big part in trying to show her that her mother and sister never held her leaving against her. Then all they had to do was have the courage to admit their true feelings for one another, and it only took a tornado to do it.
I also enjoyed the secondary characters. Nash's mother was a real sweetheart of a lady and did a lot to show Ruby that she was a good person. She is also a very strong person herself and sets a great example when a surprise visitor shows up at her home. I also liked Nash's hired men and how sweet they were to Ruby. Nash's kids were adorable and young Jane's explosion onto the scene was both funny and heartbreaking.