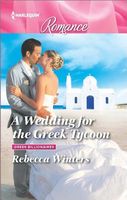 Series:
Greek Billionaires
(Book 2)
The tycoon's new hire
Zoe owes her life to the Giannopolous Foundation. Now she wants to pay them back by working for them! She hasn't bargained on millionaire Vasso Giannopolous offering her a job. Soon she's smitten not just with the beautiful Greek island she's working on, but also the gorgeous tycoon who inhabits it…
Vasso has kept his heart on lockdown after suffering the ultimate betrayal. But beautiful, courageous Zoe reminds him that some things are worth risking everything for…especially walking down the aisle!
Good book. After losing her parents in a fire and being diagnosed with cancer within days of each other, Zoe's life is finally looking up. After being helped through her treatments by the Giannopolous Foundation, she is determined to pay them back by working for them. Thanks to a set of lucky circumstances, Zoe is offered a job at the center in Greece by none other than Vasso Giannopolous, one of the founders.
I really liked Zoe. She realizes how lucky she is that she is cancer free and is determined to make the best of the rest of her life. Her personality is bright and cheerful and she seems to always look on the bright side of things. I loved watching her settle in on Paxos, making friends and coming up with ideas to make the patients' lives better. With her experience as a patient herself, she has a unique perspective, which makes her very empathetic to the people who are there. The one drawback is that she seems convinced that the cancer will return, in spite of what the doctor told her, and therefore doesn't allow herself to believe in a normal future.
I thought Vasso was terrific. He and his brother grew up poor, as the sons of a fisherman. When their father died of cancer because they couldn't afford medical care they swore they would do something about it. After making their fortunes, they started centers to help those who couldn't afford the care. Vasso has made his work his life after losing his heart to a woman who broke it. He has protected his heart ever since.
There was a connection between Zoe and Vasso from the moment they met. Vasso was blown away by Zoe's beauty, but also by the courage he saw in the way she has overcome her problems. He felt a need to do anything he could to get her to Paxos. Zoe felt the connection also, but was determined to keep it strictly professional and friendly.
I really liked the way that Vasso realized so quickly what his feelings for Zoe were. He was so sweet and romantic with all the things he did for her. I ached for him when she kept pushing him away, because it hurt him so much. I got really frustrated with Zoe when she wouldn't tell him why. She was so in love with him, but too afraid to take a chance. I wanted to shake her when she ran away. I loved the way the doctor talked to her and finally made her see what she was doing. I liked the ending with her big moment and how she surprised Vasso.