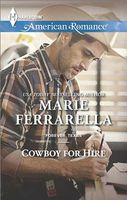 Series:
Forever, Texas
(Book 11)
A Love Built To Last?
Finn Murphy has always been good at building things. So when the town's alluring new developer makes him an irresistible offer, he's all set to jump on board. And working side by side with Constance Carmichael sure has its perks. Too bad the big-city beauty will be heading back east after she makes her name in his hometown.
Hiring the handsome saloon owner and carpenter to turn Connie's dream of building Forever's first hotel into reality was a stroke of pure genius. Finn has magic in his hands, and she's far from immune to his rugged charms. But what happens when the time comes to say goodbye to this close-knit, warmly welcoming community…and Finn? Or has Connie finally found forever -- with her Texas cowboy?
Good book. Connie works for her father, owner of Carmichael Construction. No matter what she does, it never seems to be good enough. She has talked her father into putting her in charge of building the hotel in Forever, Texas. She looks at it as her best chance of earning her father's respect. She's not sure what to expect when she arrives and starts to explore the town. When she comes across Finn working on a house, he appears to be just what she needs to get the hotel built.
Finn is the second of the three Murphy men. He works on the family ranch, works as bartender at the family bar, and works on renovating houses whenever he can. When Connie offers him the job as foreman on the hotel project, it's too good a chance to pass up. Working with her turns out to be even better than he expected.
From the very beginning the town of Forever was something completely out of Connie's experience. She is so used to the "every man for himself" lifestyle of the city and her father, that the friendliness of the people has her really confused. But with Finn's help, she sees the opportunity to do business her way. I really liked seeing the way she looked at the economy of the town and the available workers, and found a way to use so many people. She also has a great ability to connect with the people she's working with. Her best connection is with Finn. I really enjoyed the way that he sees past the construction manager to the woman beneath. I loved the way he was so sensitive to the insecurities caused by her father's attitude and how he worked to show her that her father was wrong. It was really sweet to see the way that he was so protective of her at the same time that he was so impressed by how good she was at her job.
I really liked the way that their relationship developed. Finn was so careful not to push things on the personal level, even though his feelings for her were growing stronger. He was planning to wait until the hotel was done so they didn't have the boss/employee problem going on. He was stunned when she was the one who made the first advances. From that point, the changes in Connie were amazing. Finn's support of her gave her a new confidence in herself. Just when things are really going her way, her father strikes again. Connie will have to decide what is more important to her. And Finn will have to decide if the future he pictured is worth fighting for.
I would have liked to see the discussion with her father, once she made that decision. As it is, I loved the solution that she came up with. It didn't surprise me at all, thanks to the things she had done earlier in the book. I also really enjoyed the epilogue.
Once again, the book has terrific secondary characters. I loved Finn's brothers and their relationships with him. I can't wait to see more of Liam. I also really enjoyed seeing Miss Joan again, and her talent for making outsiders part of the fabric of the town.