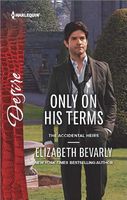 Series:
Accidental Heirs
(Book 1)
Meet Gracie Sumner, reluctant Cinderella. When the down-to-earth Midwesterner learns her deceptively humble neighbor left her fourteen billion-with-a-b dollars, she doesn't know what to do. Especially when said neighbor's shunned heir, Harrison Sage III, stakes his claim.
Harrison is not amused, especially when the quirky gold digger gets under his skin. How can the sophisticated New Yorker let himself be attracted to the woman who stole his father's fortune? Soon a contested will turns into a contest of wills -- one whose outcome could very well be determined in the bedroom!
Very good story. Gracie was stunned to discover that her neighbor was actually a very rich man who'd left her fourteen billion dollars in his will, with very specific instructions on what to do with it. Things got more complicated when his estranged son made his displeasure known.
Harrison is convinced that Gracie is a gold digger who conned his father out of his money, at least until he meets her. Then he's not sure what to think. She doesn't seem like the gold digger type, but what other explanation could there be?
There is a strong attraction between them from the beginning, but both try to resist it. Harrison doesn't trust her, and he's just too money oriented for her. Gracie is stuck in New York for awhile while things are finalized, and she ends up invited to stay at the home of Harrison and his mother. I loved seeing how that came about and Harrison's reaction to it. This begins a period of Harrison and Gracie getting to know each other.
Harrison grew up rich. For the first fifteen years of his life, his father was there, but not there. Harry the elder spent all his time working to make more money. The his father walked out on Harrison and his mother, disappearing from his life completely. Harrison followed in his father's footsteps, starting his own company and making boatloads of money of his own. He has a very cynical view of others, expecting everyone to be out for what they can get. Meeting Gracie completely confuses him.
Gracie is wonderful. Her love of vintage clothing just adds to her uniqueness, and I loved her effect on Harrison. She is the type of person who sees the good in other people and has a deep desire to help those in trouble. It made her perfect for what Harry wanted.
I loved seeing Gracie and Harrison showing each other the things each of them knows about Harry. Gracie had a hard time picturing the kind man she knew as a ruthless businessman. Then it was her turn to show Harrison the man she knew. I loved seeing her open Harrison's eyes to a whole different world. It was fun to see how her outlook on life began to change his. The dancing scene while they were in Cincinnati and how it pushed their attraction to each other over the top was wonderful. The heat and emotion they created that night was amazing. But the next morning, Harrison begins to panic over the intensity of what he felt, and when he finds out some information about Gracie, he confronts her about it. He makes the mistake of falling back into old habits and believing the worst, creating a rift between them. He knows he's being a jerk, but he can't seem to help himself. I loved seeing Gracie stand up for herself, even through the pain of what he says.
The ending is fantastic, with Harrison making amends in a really great way. I loved seeing how he changed. His words to Gracie were sweet, and he was so worried that she wouldn't forgive him. The epilogue was terrific and the perfect wrap up for the story.