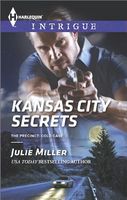 Series:
Precinct: Cold Case
(Book 2)
This was one cold case a hard-nosed detective had every intention of solving…with or without a beautiful victim's help…
Six years ago Rosie March's fiancé was murdered. Now someone is stalking her, intent on stopping her memories of the murder from being revealed. And Detective Max Krolikowski, her protector, only wants her alive for the truth she might be hiding.
But Max is hiding his own secrets, such as the acute PTSD the ex-solder lives with. As part of Kansas City's Cold Case Squad, the officer's work should have been simply investigative. But with his potential key witness's life jeopardized, he must keep her safe at any cost. And keep himself from falling for a woman who could be a true innocent…or a killer waiting to strike again.
Very good book that held my attention from the very beginning. It opens with Rosie talking to her brother about the murder he had committed years ago, when he killed Gabe Knight's fiancee (
Kansas City Cover-Up
). He claims he did it to protect her, which would indicate that it may somehow be linked to her fiance, though we don't know what that connection may be.
Rosie herself was considered to be the most likely suspect in her fiance's murder, as he had been very abusive to her. But no proof was ever found so she wasn't charged. Now the KCPD has reopened the case, thanks to the possible connection to the other murder. To make matters worse, someone has been leaving threatening messages for her, claiming that she will pay for Richard's murder.
Max and his partner were sent to question Rosie, and it did not go well. Max is not the smoothest of men on his best day, and this was not one of those. He's got preconceived ideas of who she is and what she is like, and is all but convinced she's guilty without even talking to her. That day is also the anniversary of the death of a friend, one he feels responsible for, so he isn't in a very good mood. He and Rosie butt heads from the moment she answers the door, and she isn't inclined to cooperate with him. I really enjoyed their confrontation, because Max is used to people backing down in the face of his moods, yet Rosie gets in his face instead. Max and Trent leave having gotten nowhere, and Max goes off to be miserable on his own.
But when Rosie's stalker strikes again, this time causing damage to her home, Rosie goes looking for Max. The police have been no help to her before, but she appeals to Max's military honor. She calls on him as the daughter of another Army vet, and asks for his help that way. What neither expects is the attraction that flares between them. As the attacks on Rosie escalate, Max becomes convinced that she is innocent after all, and is determined to protect her.
I loved seeing these two opposites come together. Rosie is the quiet, ladylike woman who calls Max out on his foul mouth and rough manners, but who also has a passionate side that has been well buried. Max is a blunt-spoken man with a past that haunts him, but who is also amazingly sensitive to Rosie's fears. There was a protective side to Max that Rosie brought out in him, one that really surprised him. There were several times when he was really sweet in the way he treated her. At the same time, Max's blunt honesty helped show Rosie that there was a passionate woman inside her, one that he appreciated. I loved how he gave her the confidence to go after what she wanted from him. I also liked seeing her help Max deal with his ghosts, and show him that he's far better than he believes. I loved seeing them come together in the end, accepting each other's flaws, and loving each other in spite of and because of them.
I really liked following along as Max, Rosie and his team worked to find out who was stalking her and if there was a connection to her fiance's murder. There were several possibilities, and each one was equally strong. It was very interesting to see how one lead would create a link to something else that hadn't been suspected before. One connection was not too much of a surprise, but the final confrontation contained a twist that I didn't see coming. There was also an assist from a surprising source at the end and I'm looking forward to learning more about that.