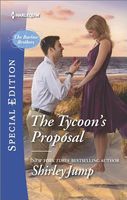 Series:
Barlow Brothers
(Book 3)
This Barlow Brother Always Gets What He Wants
Mac Barlow never met a deal he couldn't make. But this corporate shark just hit a gorgeous roadblock. Mac will do anything to acquire Savannah Hillstrand's struggling solar energy company -- even return to Stone Gap and face down a shattering secret in his family's past. Just one problem: the breathtaking blonde refuses to sell.
Determined to save her father's legacy, Savannah makes Mac an offer he can't refuse. He'll show her how to turn her business around. If she fails, the company is his. Instead, it's Savannah who's changing the way the hunky, buttoned-up CEO sees the bottom line…and is in danger of losing her heart. Can she help Mac reconcile with his past and claim a future with the irresistible Barlow bachelor?
Good book. Mac came home to Stone Gap for three reasons. The first was to attend his brother Jack's wedding (
The Homecoming Queen Gets Her Man
). The second is to face his father with a family secret. And the third is to buy Savannah's solar energy company. He's hoping that talking to her face-to-face will finally convince her to sell.
Savannah is determined to hang on to her father's company. She can't imagine selling the company her father worked so hard to build to someone who will resell it or break it apart. So she convinces Mac to help her make it work, and if she doesn't succeed she'll sell it to him.
When Mac arrived he was one driven man. Though he's there for his brother's wedding, his desire to buy Savannah's company is at the front of his mind. He can't understand why she doesn't take the money he's offered and run with it. I loved how he had a picture of her in his mind, and was so surprised when he met her. He is so focused on the bottom line that her view of the company as a family is something he doesn't understand. He's not sure how she talked him into helping her, but as they spend time together his attitude begins to change and he starts to see more than just the money. I loved seeing how her personal touch and the balance in her life helped him see what he was missing.
Savannah has her own issues that she is dealing with. She promised her father that she would keep the company going, but she doesn't know how. She knows that she's in trouble, but doesn't want to give in and sell. She would much rather be renovating houses, which is her real passion. I loved her determination and the way that she doesn't let Mac walk all over her. It was fun to see her pull him out of business mode and show him that there's more to life.
The attraction between them was quick and intense. Both fought it hard because neither believed that anything could come of it. The more time they spent with each other the deeper their connection grew. I loved seeing how being around Savannah brought out the softer side of Mac, something he had forgotten he had. The scene with the birdhouse really showed the type of man he could be. But before he could have the life that could be, he had to learn to open his heart and not just his brain. Savannah found herself falling for Mac, but was determined to keep her focus on saving her father's company. She buried what she wanted to do under the weight of carrying out her father's wishes. I liked seeing the way that Mac tried to show her that it wasn't making her happy. I hurt for her as she realized the strength of her feelings for Mac and stood up for what she needed from him. I loved seeing how it was the actions of Mac's family that showed him what he should do. His big moment at the end, and how he was able to express his feelings was pretty sweet. The solution that he came up with for the business was fantastic.
The secondary story line of the appearance of another brother was great. It was dealing with this issue that really showed the changes that Mac was going through. I understood Mac's anger at his father and his worry about the effect of the news on the family. It also added to the strain that was already there between Mac and his father. I loved seeing Savannah help Mac work through his feelings about the issue, and how it influenced his feelings for her. The way that Mac's dad tried to avoid the problem, then finally had to face it felt very real to me, as did the reactions of the rest of the family. I'm looking forward to the next book, which I assume will be Colton's story.