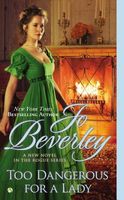 Series:
Company of Rogues
(Book 15)
Lady Hermione Merryhew, daughter of an impoverished marquess, already has her share of problems. The last thing she needs is an intruder in her bedroom, especially not a fugitive thief. She should scream, but the shabby rascal is a man from her past.
Six years ago, at her first ball, dashing Lieutenant Mark Thayne failed to steal a kiss, but succeeded in stealing a little of her heart. She's older and wiser now. She can't toss him to the wolves. Besides, she wants that kiss.
Now Viscount Faringay, Mark has never forgotten Lady Hermione, but he mustn't involve her in his dangerous life. He's infiltrated the Crimson Band, violent revolutionaries who plan a bloodbath in London, and if he survives the night he will be able to destroy them. Hermione is involved, however, and only he can protect her.
Very good book. It's been awhile since I've read a Rogues book and I'd forgotten how much I enjoy them. It starts out quickly with the heroine, Hermione, having an intruder in her room. Being of a fairly even temperament, she stays calm and realizes that the intruder is someone she knows. Years earlier, she had met him at a ball, as a seventeen year old debutante, and he was a nineteen year old Lieutenant, headed off to war. Now he appears to have taken to a life of crime, but her heart won't let her expose him, so she allows him to hide out in her room.
Mark remembers Hermione very well, but doesn't want to put her in danger. He's gone undercover to stop a group bent on starting a violent revolution. He's stolen some papers that will expose them, if he can escape and get them to the authorities. Though he didn't mean to get her involved, his actions have put her in danger, so he must find a way to protect her and continue his mission.
I loved the relationship that grew between them. Their encounter in her room brought back their memories of the event and rekindled their feelings. But Mark has to continue his deception in order to reach his goal of stopping the revolutionaries. Hermione is a very practical person, but still has a touch of the romantic in her soul and continues to carry the uniform button Mark gave her all those years ago. Mark has a more passionate nature, hence his devotion to stopping the ringleaders, and also still carries the silk rose she gave him.
Mark has inadvertently put Hermione in danger and is determined to keep her safe. This is hard to do when he can't tell her exactly why. She resists being told what to do, and their conversations as he tries to convince her show their personalities. She is practical and independent and he is passionate and protective. Those conversations also bring them closer together, and their connection can't be denied. When Hermione ends up in London, assisting an elderly relative, it puts her in more danger. Mark has to balance his need to keep her safe, and his need to stop the revolutionaries. Eventually he has to tell her the truth and engage her help. This is where they really start to mesh as a couple. I really liked the way that Hermione had of looking at things from a practical side and pointing out things that Mark hadn't considered. This, in turn, gave Mark a more logical way of looking at things.
The part where they reach London is where the action really begins to intensify. Mark attempts to sow discord among the ringleaders before abandoning his disguise. The search is on for the Frenchwoman who is behind some of the worst of the problems, and who plans some kind of explosive disaster. A mix up relating to Mark's disguise has Hermione believing he is dead, and help from an unexpected source brings them back together. The final confrontation was well done, with just enough danger to keep it interesting.
The secondary story of Hermione and her Uncle Edgar was really good. I really liked the way that she was determined to stay with him and help him recover, whether he left money to her and her sister or not. The relationship between the two of them was fun, with his grumpy old man attitude and her ability to deal with it. It was through this part of the story that the Rogues made their appearance, with her late brother having been one of their group at school. It was fun to see Hermione try to deal with Nick Delaney and his way of doing things, but also wonderful to see the way he was there to help her when she needed him. Hermione's exposure to Rogue wife Beth Arden was also an eye opener for her, and gave her some extra confidence. And of course, the Rogues themselves end up having a part in Mark's mission, in their own special ways.