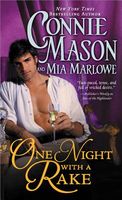 For King and Country, Three Notorious Rakes Will Put All Their Seductive Skills to Work.
After All, The Fate of England's Monarchy is in Their Hands.
Since the death of his fiancée, Nathaniel Colton's polished boots have rested beneath the beds of countless wayward wives and widows of the ton. He's careful to leave each lady smiling, and equally careful to guard his heart. So seducing Lady Georgette should pose no problem. But the beautiful reformist is no easy conquest, and Nate's considerable charm fails to entice Georgette to his bed. To woo her, Nate will have to make her believe he cares about someone besides himself--and no one is more surprised than Nate when he realizes he actually does.
Good book. Nathaniel is one of three "rakes" who are being blackmailed into doing something very ungentlemanly. In order to keep scandal away from his family, Nathaniel has been tasked with seducing Lady Georgette, one of the women selected to possibly become a royal bride. It's not something he's proud of, but he'll do what he must to protect his family. To complicate matters, Georgette is the younger sister of his deceased fiancee, one who he still mourns.
Since Anne's death, Nate has enjoyed the attentions of many women, but has gotten close to none of them. He doesn't want to suffer that kind of loss again. Because of his mission, he has to get close to Georgette and make her believe that he cares about her. When he sees her again after several years, he's surprised to see that she's no longer the shy and bookish girl he remembers, but a beautiful and spirited woman. Suddenly the seduction doesn't seem like such a chore, but the guilt for doing it is hard to bear.
Georgette feels guilty for being the sister that survived the scarlet fever outbreak. Since then she has been determined to be the type of daughter her sister had been, which means doing what her parents want. Right now that entails being the type of woman that would appeal to a royal duke, even though that is not the life she wants for herself. When she was sick, she had promised herself that she would become the kind of person who would make a difference in the world. To that end, she has begun an effort to help prostitutes leave that life and start new, respectable lives. Nate's appearance in her life throws everything into turmoil.
I liked both Nate and Georgette. In spite of being described as a rake, I thought he was quite honorable and a good man. I loved the way that he came to Georgette's rescue at the beginning, and how that gave him the "in" he needed to spend time with her. I loved his protectiveness and his efforts to keep her safe, even though it sometimes seemed to be a losing battle. He came to know her very quickly and could see what her mission meant to her. It was fun to see him try to help her and protect her at the same time, especially when she fought the protectiveness. He also started to let go of his grief for Anne as he got to know Georgette better and her happiness began to mean more to him than his own goal,
Georgette has a mind of her own and it creates conflict with her desire to do what her parents want her to do. She isn't particularly thrilled wit the idea of being a princess, but she doesn't have much choice in the matter. Her heart really lies with her mission to improve the lives of prostitutes. She is a mix of naive and worldly and this gets her into frequent trouble. Her first encounter with Nate is when he rescues her from one of her attempts to save one of those unfortunates. She's not happy to be dragged off by him and lets him know it. It gets even worse when her father asks Nate to be her escort around town and therefore keep her out of trouble. It was a lot of fun to see the way that her determination got Nate involved in helping her, and how they turned into a good team.
There were sparks between them from the start. For Nate, it initially meant that seducing her would be a lot easier. But for him, those sparks grow into more, and he's suddenly trying to figure out how to keep her for himself. Georgette doesn't quite know what to make of the feelings Nate rouses in her at the beginning, but soon realizes that he is far more what she wants than the royal duke is. I loved seeing how she responds to Nate's advances, and what it means to her. I loved how Nate knew her well enough that it was important that she come to him when she was ready. Their love scenes together were terrific. Nate's attempts at self control and Georgette's determination that he lose that control were fun to see. As their feelings for each other grew, both had choices to make about their futures if they wanted to have that future together.
I really enjoyed the story of Georgette's reform attempts. What she is doing gets tangled up with a piece of property that Nate won, and the danger to her increases. There was some mystery behind the murders of a couple people, and their efforts to solve it brought them closer together. I enjoyed Georgette's conversations with the various "ladies" and the effect they had on her. I was pretty sure who the bad guy was, and was happy to be proved right. The final confrontation was pretty good, though it did end rather abruptly. I felt like there could have been a bit more to it.
The secondary characters of the footman, Reuben Darling, and Georgette's maid, Mercy, the former prostitute, were great to see. I really enjoyed Mercy's blunt speech and interesting outlook on life. She had a neat way of making Georgette look at things. I was moved by the things she said to Reuben when she thought he was unconscious, and what it showed about the life she had led and the effect it had on her. Reuben was an honorable man himself, and I loved the way he treated Mercy. It was sweet to see what he told her after he regained consciousness.