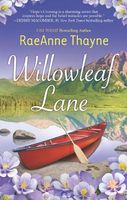 Series:
Hope's Crossing
(Book 5)
Sometimes going back is the best way to start over
Candy shop owner Charlotte Caine knows temptation. To reboot her life, shed weight and gain perspective, she's passing up sweet enticements left and right. But willpower doesn't come so easily when hell-raiser Spencer Gregory comes back to Hope's Crossing, bringing with him memories of broken promises and teen angst. A retired pro baseball player on the mend from injury -- and a damaging scandal -- he's interested in his own brand of reinvention.
Now everything about Spencer's new-and-improved lifestyle, from his mission to build a rehab facility for injured veterans to his clear devotion to his preteen daughter, Peyton, touches Charlotte's heart. Holding on to past hurt is her only protection against falling for him -- again. But if she takes the risk, will she find in Spencer a hometown heartbreaker, or the hero she's always wanted?
Good small town reunion story. Charlotte is a lifelong resident of Hope's Crossing. She lost her mother at a young age and used food as comfort, leading her to become very overweight. Her high school years were miserable because of it, the only bright side being her crush on Spencer Gregory, the high school baseball star. Recently, she has taken control of her life, lost a lot of weight, and feels much better about herself. Then Spencer returns to town, throwing her life back into turmoil.
Spencer couldn't wait to leave Hope's Crossing when he was a teen. The son of an alcoholic mother, he spent his teen years working three jobs just to keep their lives together. When he was offered a baseball contract, he took it and never looked back. Now he is back, trying to put his life back together. His career ended with a shoulder injury, during which he got hooked on painkillers. He came through rehab stronger, but was then accused of dealing drugs and steroids to fellow teammates, lost his wife to a drug overdose, and is now the sole parent to his twelve year old daughter Peyton. With nothing left for him in the baseball world, he accepts the offer to run the new recreation center in Hope's Crossing. Peyton is angry about being taken away from her friends, and the people of Hope's Crossing aren't too sure they want Spencer running the center.
Charlotte is stunned to find out that Spencer is back in Hope's Crossing. She first met his daughter, before she knew who Peyton was, and recognized some similarities in their lives. But she's not too sure she wants anything to do with Spencer and his problems. Plus, she can't forget the way he broke her heart as a teenager. Though she is wary around him, the old feelings are still there, and she finds herself drawn back into his life. She fights it because she can't see anything between them ending well.
Charlotte is suspicious of his intentions at the beginning. She thinks he is only back in Hope's Crossing as a way to repair his reputation, but he slowly begins to show her that he wants more. I liked the way that Spencer wants to repair his relationship with Peyton, and how hurt he is by her attitude toward him. I thought he did a really good job of keeping his patience with her. He was very glad to be able to get Charlotte to help him connect with Peyton. Spencer remembers what a good friend Charlotte had been when they were in school, but now there is something more that he starts to feel for her. I liked the way he wants to show her that he's not the same jerk he was back in school.
When Spencer first came back to town, he was still feeling a bit lost. Without baseball he isn't sure who he really is. I liked the way he started to feel more a part of things while working at the center, and things really took off for him when Peyton suggested that he find a way to work with wounded veterans. That cause really appealed to him and he felt an enthusiasm he hadn't felt in years.
I loved the rekindling of the relationship between Spencer and Charlotte. I really liked that Spencer saw the woman inside Charlotte, not just the new and hot outside. I also liked the way that Charlotte was able to look past the scandal surrounding him, remember who he had been, and realize that there was more to the story than the public knew. It was really good to see how they each brought out the best in the other. I really liked how Charlotte was there for Spencer when Peyton had a health crisis, and was able to help both of them get through it. Spencer finally realized what his feelings for Charlotte were, but she still has issues with herself and can't believe that there's any chance of a future for them together. I loved the way Spencer got help from her friends and made his case in a really sweet and romantic way.
I really liked the part that Peyton played in bringing Spencer and Charlotte together. Spencer loves his daughter, but he is somewhat lost in knowing how to deal with her. There were times that Peyton was a real brat, and I felt sorry for Spencer. Charlotte recognizes a lot of the same things in Peyton that she went through herself, so she tries to help Peyton settle in. It was pretty easy to see the problem that was building for Peyton, and when it came I liked that Spencer was determined to do whatever he needed to. Charlotte's support was just what they both needed to become the father-daughter team that they were capable of.
The ending of the story was great. The veteran's center was really coming together quickly. It was also interesting to see Spencer's former teammates come out to support him, and show how much they respect him. There was an interesting twist involving one of those teammates, which led to a very satisfying revelation.