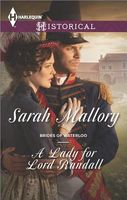 Series:
Brides of Waterloo
(Book 1)
In a time of war…
Mary Endacott has no intention of ever surrendering to a man, especially when she meets stubborn yet infuriatingly handsome Lord Randall! But with a major battle fast approaching, normal rules dissolve, and Mary gives herself to him.
…can true love survive?
Justin is renowned for his authority on the battlefield, but Mary is a challenge of a whole new kind! He's determined to seize every moment of happiness while he can, but when the fighting commences, will the promise of Mary's kiss be enough to keep him safe?
Good book. This is the first in a trilogy centered around the Battle of Waterloo, but can easily be read as a stand alone. I read the series out of order and had no trouble following the story. Each book takes place during the same time period, the days just before and after the battle with a little bit of shared events.
Mary and Justin meet at a dinner party in England. Justin is visiting his sister and accompanies her to a dinner where the attendees are an eclectic group of artists, writers, scholar and free thinkers. As a nobleman and a career soldier, he feels quite out of place, and as a man who admits to being low in social graces he is rather awkward. Mary notices him and makes an effort to talk to him and ease his discomfort. Mary is a woman who was raised by free thinking parents, and has an independent spirit and a mind of her own. She runs a girls' school in Brussels and has no plans to marry.
There are sparks between Mary and Justin from the beginning, but they are so different in background and attitude that they realize there is no future in a relationship. Justin's sister has other ideas, and maneuvers Justin into escorting Mary back to Belgium with him. During the trip their interest and attraction to each other grow, but are determined to part ways when they reach their destination. However, they can't seem to stay away from each other and decide to pursue a friendship in the time leading up to the battle they know is coming.
I really enjoyed seeing how well they got along in spite of their perceived differences. Justin has been careful in the past to avoid romantic entanglements. His father was a notorious womanizer, leaving an untold number of illegitimate children behind, and Justin believes that he is like his father. He refuses to allow himself to love a woman and put her through the kind of hell his mother suffered. But the more time he spends with her, the more he likes her, and finds his resolve to remain a bachelor wavering. I enjoyed the way that his previous attitude toward her background changed as he got to know her. Mary finds herself just as drawn to Justin, in spite of the fact he represents everything she dislikes. He is a nobleman and she believes that people should be judged on what they do, not who they are. He is also a soldier, and she hates the violence of war. As she gets to know him, she sees that he is not an arrogant aristocrat but actually a good man. As the time of battle grows closer, they choose to reach for some happiness.
At this point things are looking very promising in their romance. Justin begins to believe in the possibility of marriage, and Mary is ready to take a chance on them also. Then Justin jumps to an illogical conclusion and says some really cruel things to Mary because of it. By the time he realizes he's wrong, it's too late. He's in the midst of battle and Mary is justifiably hurt and angry.
Now Justin has to survive the battle and find a way to make amends with Mary if he wants what he had before. As hurt as she is, Mary can't bring herself to leave Brussels while the battle is happening because she is worried about Justin. When she discovers he's missing, I loved seeing the way she takes charge. She worked hard to care for him while at the same time trying to protect her heart. Justin is determined to find a way to gain her forgiveness, but Mary doesn't make it easy. There are some tense moments, but in the end, it does work out.