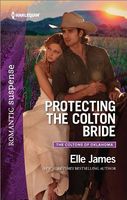 Series:
Coltons of Oklahoma
(Book 4)
With his ranch in financial trouble, cowboy Daniel Colton makes the perfect proposal to Megan Talbot -- a marriage of convenience to save his business and ensure she receives her inheritance. But spending night after night with the strawberry blonde beauty tests all boundaries of Daniel's self-control. And when a killer targets his new bride, vying for her estate, it sets off all of his protective instincts. Daniel refuses to trade his honeymoon for a funeral. Now it's a race against the clock to track down the culprit and protect the wife who's starting to be so much more to him than just a business partner.
Very good book with excellent action and suspense from the very beginning. Megan has been working for Daniel at his horse breeding business for a few months and has become a very important part of it. She came to Oklahoma to fulfill her dream of working with horses and get away from parents who are overly controlling. She gets an ultimatum from her father: come home where you belong or I will sell your horses to a glue factory. Distraught, she sees no other choice, and tells Daniel that she has to quit and why.
Daniel is the bastard half brother of the rest of the Coltons. He loves his family and the ranch he has called home since he was ten, but he has always felt a bit of an outsider. The horse breeding business is his, and he is still working to prove that it should be part of the family ranch. He has an opportunity to make a big step forward for the program, but his place in the family tree could be a drawback. He needs a way to boost his credibility with this particular breeder.
When Daniel hears of Megan's problem, he has the perfect solution. They should enter into a business marriage together. Megan will fulfill the requirements to gain access to her trust fund, enabling her to buy her horses and care for them, and Megan's family ties will give Daniel the boost he needs. Daniel doesn't count on the attraction that flares between them, making it difficult to stick to the plan he had laid down. Megan is just as attracted to Daniel, and has been since she first arrived.
Though he is part of the Colton family, Daniel feels that his own background as a half Native bastard creates too big of a gulf between them. He's determined to keep his distance, but the attraction is just too strong. Megan is more than willing to give in to the heat between them. Throughout the months that they have worked together, their common goals and beliefs have brought them closer together. Their interactions are honest and real. I especially enjoyed the wedding scene. Daniel fights the feelings that are growing for Megan because of his attitude of unworthiness, while Megan admits her feelings to herself but hesitates to tell him. I loved seeing her try to show Daniel that his fears are misplaced. Daniel's protective feelings for her soon open his eyes to his real feelings, he just has to believe that they can be happy together.
The suspense of the story was fantastic. It began with the trouble with one of the horses, where Megan could have been badly hurt. Though it was suspicious, they had no reason to believe it was directed at her. Even the attack in Las Vegas could have been random bad luck. But when their plane is sabotaged on the trip back from California, and Megan becomes ill, they have to believe that there is someone who wants Megan dead. The question is who and why. I had a pretty good idea of the truth, but it didn't detract from the final confrontation at all, which was pretty intense. I loved how it all worked out.
I also enjoyed the family relationships. Though Megan had issues with hers, during the visit to California, there were several things that were resolved. I liked seeing her stick up for her needs, and how her parents finally accepted it. I liked the scene in the barn with Megan's father, who turned out to be a lot better than I expected. I also loved the relationships among Daniel and his family. Their love and support for each other was obvious. The scene in Megan's hospital room, when they all came to visit, and their reactions to the marriage were great. Both Megan and Daniel hated lying to their families, and it was great when it all became real.