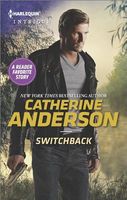 Trust no one...
When kidnappers stole Mallory Christiani's little daughter Emily, her world threatened to crumble. She'd been warned not to tell anyone--not her family, not her friends and most definitely not the police. But, despite her efforts, she couldn't keep Bud MacPhearson out of her life.
Mac was a professional detective, but his interest in Mallory's case was strictly personal. He'd failed once to keep his promise to see both Mallory and Emily to safety and he wasn't going to let it happen again.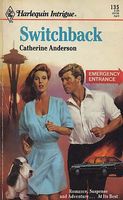 Mac and Mallory were strangers, with no one to turn to but each other . . . and their future and happiness depended on holding nothing back.
This is a reissue of the 1990 edition of this book, so there are some things that make it dated, but overall it was a good book. Having the characters using pay phones, typewriters, vcrs, and the hero having fought in Vietnam was a little odd, but didn't detract from the story. The action is good from the beginning, though there were a couple places where it dragged a little.
Keith Christiani is Mallory's father-in-law. He has gotten in trouble with some really bad people and tries to find a way out of it. When his plan falls through he calls friend and private investigator Mac to ask him to protect Mallory and her daughter Emily, but Mac doesn't get the message right away. Keith has had a stroke and is unable to tell Mallory what is happening.
Mallory is a wealthy widow whose daughter is everything to her. She doesn't trust Mac when he first appears, but when Emily is taken he is the only one who can help. The bad guy wants to trade Emily for some ledgers that will provide evidence of his crimes to the police. The problem is that Mallory and Mac can't find the key to the safety deposit box that holds the papers. There are also men after Mallory, trying to kill her before she can get to those papers. Mac and Mallory barely stay one step ahead of them as they race to find the key. At the same time, they try to discover the identity and location of the bad guy, in hopes of rescuing Emily without the demanded ransom.
There are sparks between Mac and Mallory from the beginning, but without trust there's really no place to take them. Mallory isn't sure that she really believes that Mac will succeed, and some of his methods are borderline illegal. He's very different from the type of man she is usually around and she isn't sure how to deal with him. Mac grew up in the poor part of Seattle and has some self esteem issues because of it. He also has deep prejudices against those who have money, and especially against Mallory. He holds her partly responsible for the death of his half-brother, so his attitude toward her is less than pleasant. As they work together he slowly begins to see that he has misjudged her, but the old feelings are hard to overcome. Mallory is a strong and independent woman, but the circumstances she is in have put her under tremendous strain. Most of the time she handles herself well, but is occasionally overwhelmed by everything that is happening. At those times, she finds herself leaning on Mac. Things are going pretty well for them on a personal level until Mac's prejudices cause him to say some pretty hurtful things. By the time the end comes, Mac has to find a way to let go of the past if they are going to have a future together.
I enjoyed following Mac and Mallory as they took each step toward solving the mystery. Mac is pretty calm and in control during most of the attacks. He also has no problem bending the rules a bit in order to get results. I liked the way he could go from professional detective to street thug without much effort. The events of their search in the seedier areas of the city were both horrifying and amusing. I loved the friends that helped him, and how their respect for him showed that there was more to him than Mallory had known. The tension kept going up as they got closer to finding the missing key and papers. I wasn't surprised by where the key was, and once they had the papers things started looking more hopeful. I loved Mac's protectiveness and how it came out in his plan to get Emily back. But the real winner was Mallory and what she did to save Mac. That was the best part of the entire book.