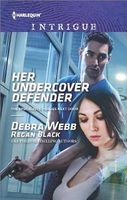 Series:
Specialists: Heroes Next Door
(Book 4)
She's the perfect pawn
Covert CIA specialist David Martin has his orders. Keep a terrorist cell from using Terri Barnhart as leverage to get their hands on a nearly perfected biotech weapon. Falling for her could compromise his mission and turn the dedicated nurse into a moving target.
With her brother off the radar for three months, Terri fears the worst. Having the sexy Southerner to lean on helps -- except the hospital's new staff member isn't what he seems. To survive, she'll have to trust David with her life -- trusting him with her heart is something else entirely.
Very good book. David is one of a new type of operative, one who is given a permanent undercover assignment to be on the lookout for terrorist activity. In his case, he is sent to Charleston to keep an eye on Terri, a nurse who is connected to a research doctor. They are worried that someone could use her to get to the doctor.
I really liked David. He's a nice guy, who feels a little guilty about getting to know Terri under what he feels are false pretenses. It gets worse when he realizes that he really likes her for herself, not just his mission. When the action starts to heat up, his protective instincts really kick in. I really enjoyed seeing the way that he stood up for her against the way her brother was treating her.
Terri hasn't had it easy the last few years. Her parents were killed and her brother badly injured in a car crash. She devoted most of her non-working time to helping her brother recover, and finally got him off to college a couple months earlier. But then he disappeared without a word to her, and she's worried about him. David's attention has been a great distraction, and when Trey's return seems to coincide with some strange happenings, she's very glad to have David by her side.
I really enjoyed the development of the relationship between David and Terri. It started as a simple friendship, with them getting to know each other and doing some fun things together. David had the extra motivation of his mission, but he found himself attracted to Terri also. That worried him because of the potential distraction from what he was supposed to be doing. I liked the sweet things he did for her, like the flowers he sent and walking her to her door. As the time went on, David's feelings started to deepen, causing even more conflict within him, especially if she were to find out the truth of who he is. Terri starts out looking at David as just a friend. They have fun together and she enjoys his company without the added stress of a relationship. But after a couple months things begin to change, and David makes it clear that he's ready for something more. She's a little wary, but when her brother comes back, she finds herself leaning on David more and more, as things about Trey begin to scare her. I loved seeing her feelings for him grow as he is there for her through all the danger. When it was all done, I loved how they realized that they were stronger together than apart.
The mystery/suspense part of the story was fantastic. David's part in protecting Terri at the same time he needed to stop whoever was after her boss kept the action humming right along. Trey was a character that I had mixed feelings about by the end. When he came back, I did not like the way he treated Terri. He definitely had the attitude of a spoiled brat, and one that really had no idea of what he had gotten himself involved in. I enjoyed his confrontations with David, because he so obviously came out on the short side of them. His attitude toward David seemed to be a combination of suspicion because of what Trey was involved in, and jealousy because Terri cared for him. I loved David's ability to puzzle out just what was going on, and how he thought it was going to happen. The final confrontation was really intense and I wasn't sure who was going to come out of it at the end. I still wanted to shake Trey, but he redeemed himself a little bit. I thought that Terri handled herself and the things she found out very well.